Disk of 2022 > Clasic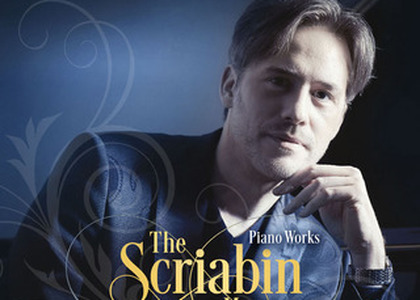 The pianist Vincent Larderet – the "The Skriabin Mystery" album – CD Review, 15th of December 2022
Thursday, 12 January 2023 , ora 13.56

A new album highlights the 150th anniversary of the birth of Alexandr Scriabin - We've recently listened to Andrey Gugnin and his selection of Mazurkas signed by the Russian author, today I present you another pianist, Vincent Larderet who proposes a heterogeneous selection of creations by the same explorer of the piano language, under the title of "The Scriabin Mystery", once again in a sequence that takes into account the chronology and the evolution of his style, at the beginning imbued with the influences of Chopin's language, towards the end proposing harmonically unsuspected adventures, exploring dissonances that go beyond tonal laws - an album released under the Avie label, on the 23rd of September. We've listened to a Franz Liszt album by Vincent Larderet here on Radio România Muzical, "Between light and darkness". We are expecting a similar symbolism in this new material, which offers a complex image of a less explored piano literature. For example, "Étude in B-Flat Minor, Op. 8 No. 11", composed by Scriabin at the age of 22, marked by virtuosity, but also some strong dramatic accents. I dare say this dramatic component is part of Vincent Larderet's DNA, and he imprints it organicallyon the music he plays. In addition, it aims to offer a new perspective on this repertoire. To quote him: "In order to observe Scriabin's innovative place in history, we must identify his interpretive codes. I have consciously sought to eliminate certain traditions that leave room for a distortion of the pulse and the use of a systematic rubato, justified only by the fact that Scriabin's interpretation would have been a very free one. We must not forget that he was obsessed with the notion of unity and geometric proportion, which mathematically support the structure of his works". Also included here are some works composed during the period when the composer had problems with his right hand and thus became unsure about pursuing a career as a pianist.
The French pianist Vincent Larderet - he is a famous name in the European landscape, with a fulfilling career, accessing a wide-ranging repertoire - from Domenico Scarlatti to Pierre Boulez, specialized in the music of Maurice Ravel, taking part in the live recordings of the complete Beethoven Sonatas, together with Stephen Kovacevich for a DVD released by Piano Passion, a notable presence at all major Festivals - Schleswig Holstein Musik, Orpheum Music, Busoni, Piano Texas, Besançon, La Roque d'Anthéron, La FolleJournée, at the Boulez and Berlioz Festivals, collaborating with prestigious orchestras and great conductors, and also invited to be part of international juries. Of course, we are interested in his talent of revealing images, unique dimensions of the music he performs. For example, Piano Sonata No. 2 in G-sharp minor, op. 19 "Sonata-Fantasy" by Alexandr Scriabin - with its first part andante followed by a presto -atypical already in terms of structure, is interpreted by Vincent Larderet in an infinity of colors, at first gloomy, meditative, and ending on the heights of an impetuous, temperamental, obviously post-romantic virtuosity.
Vincent Larderet continues to lead us into the mystical universe, so elaborate and dark, of the Russian author. In Poem Op. 72, "Vers la flame", a piece performed by the great pianists of the 20th century, we get the apocalyptic imagery of a world that, due to global warming, is heading towards destruction. Here, Scriabin uses his mystical chords, sudden modulations and a form of improbable virtuosity, qualities fully expressed in the French pianist's version too. We also chose the Five Preludes op. 7, also composed in 1914, the last works completed before the composer's unexpected death. His return to simple forms is considered quite unusual - even Scriabin himself stated: "My goal is to concentrate a perfect musical thought in a miniature form". These are dark meditations, often similarly expressed at the level of dissonance, performed with infinite reverence and dramatic acuity by this very experienced and elitist (in the best sense of the word) French pianist - Vincent Larderet and his mystical experience in Scriabin's universe.
Marina Nedelcu
Translated by Cristina-Bianca Ion,
University of Bucharest, Faculty of Foreign Languages and Literatures, MTTLC, year II
Corrected by Silvia Petrescu