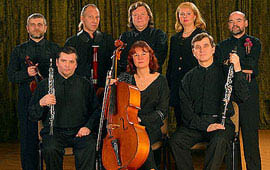 Interview with composer Liviu Danceanu
Monday, 26 October 2009 , ora 11.42

The renowned Contemporary music group "Archaeus" will tour Germany between 26-30 October 2009. We learned more details about this tour from the composer and conductor Liviu Danceanu, the leader of the group.
Why did you decide to take this tour?


The reason is that for the past 15 years, we have had the habit of feeling the pulse of the European contemporary music each fall.. As usual, in October we will be in Germany. The Romanian Cultural Institute and a contemporary music foundation from Düsseldorf are two of the organizers. However, the main organizer is Radio Köln - Westdeutscher Rundfunk, which is setting the scene for a very important Romanian music concert to take place on December 20.



Can you tell us about this year's programme?


The tour will consist of 5 concerts, starting on October 26, and there will be three concert programmes. We will perform the first concert at the Romanian Cultural Institute in Berlin - the "  Titu Maiorescu " Institute - where we will perform three works: a work by Eugen Wendel - "Transsonant", one by Corneliu Dan Georgescu - "Study for the endless column", and one of my own - "Exercises of admiration".

We will interpret the same programme in Mannheim, on October 28.

The second concert will also take place in Berlin, at Steglitz, and we will perform works by Dan Dediu, Horia Surianu, Eugen Wendel and myself. We will interpret the same programme in Dortmund.

Our audience will be able to watch our last concert at Westdeutscher Rundfunk in Düsseldorf. The programme will include works by Corneliu Dan Georgescu, Horia Surianu, Dan Dediu and myself.
Andra Ivanescu
Translated by Roxana Cristea (Bocicai) & Mircea Filimon
MA Students, MTTLC, Bucharest University