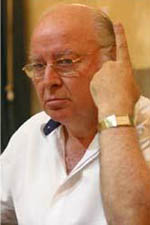 Interview with conductor Octav Calleya
Tuesday, 5 January 2010 , ora 12.59

On the 23rd of December 2009, at the Romanian Athenee, a volume on the life and career of the Spanish conductor Octav Calleya was launched. He was born in 1943 in Chisinau, after the war he settled in Craiova and he has been living in Spain since 1973.

I would like you to talk to us about the contents of the book At the Music Rack of Life (La pupitrul vietii) and to tell us how you started your collaboration with writer Ion Munteanu.

The genesis of the book was marked by the honorary title awarded to me by the city of Craiova. I wanted it to be written as a dialogue in order to be easily read and, actually, I had only one purpose in mind. The book is not a biography, the course of my life can and should serve as a small example for a young generation. The book is a constant challenge and it tackles important subjects, from the sphere of music, obviously, from Celibidache's phenomenology to the system of solfeggio of tmaestro Constantin Bugeanu, whose student and assistant I was. The book presents cultural and musical themes from Spain and from around the world, and it also focuses on the conducting technique and my activity as a conductor who has performed throughout the world. The series of photographs reflect, of course, this activity. There are photos with great artists of the world and even some biographical pictures. My family was not from Romania and its past was quite important.

The book was completed in record time due to professor Munteanu's enthusiasm and hard work. It took us six months to make the recordings. Of course he elaborated them afterwards, he completed them, gave them a very sociological meaning because the subtitle of the book is Music Sociology Guide.
Larisa Clempus
Translated by Oana Ludmila Popescu
MA Student, MTTLC, Bucharest University