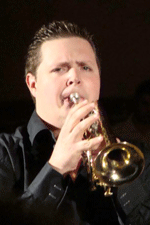 Romain Leleu: I find Enescu's Legend to be the most beautiful composition ever written for trumpet and piano
Friday, 12 March 2010 , ora 10.34

The young and extremely talented French trumpet-player, Romain Leleu was present on March 10th 2010 at the Romanian Athenaeum where he performed an impressive recital. Before this event, the artist who was awarded the famous Victoires de la Musique prize in 2009, agreed to give us an exclusive interview thus imparting with us, among other things, his impressions about George Enescu's music.

This is your first visit to Romania. Could you give us some general impressions?
I am very happy to be here for a first concert. I have seen photographs of the Romanian Athenaeum Hall and I am anxious to discover it tomorrow since it is very beautiful, even more beautiful than some of the halls in France. And it is a great pleasure for me to be here.

You often perform together with Julien Lepape, the piano player. What is it that keeps bringing you together on the same stage?
Julien and I have performed together for four years now. The trumpet is not necessarily an instrument that benefits from a consistent repertoire and Julien and I wanted to show that the trumpet-piano duo is an original one and that there are transcriptions, but also original compositions for the trumpet worth performing. I was very keen on interpreting the works of composers such as Karol Beffa who, if I am not mistaken, even performed at the Athenaeum; Philippe Hersant or Eric Tanguy. There are many transcriptions and Julien and I have even adapted some of the works. It is, I repeat, four years now. I feel privileged to have such a partner. We do not perform together all the time, but if I am given the opportunity, I always chose him. He is a very good accompanist, an excellent piano player, and we communicate very well off the stage as well. It is all perfect when we are together.

How did you get close to this instrument, to the trumpet?
I started to study this instrument when I was six years old in Lille, Northern France. It all happened naturally; my parents are musicians and so is my brother; furthermore, Northern France has a powerful tradition in blowing instruments. Therefore, I decided to continue. I have always intended to transform this into a profession. Being able to make a living out of one's passion is a great opportunity and I enjoy it every day.

You have included in tonight's program, Enescu's Legend. Is this the first time you perform it in a recital?
If you ask me, I will have to tell you that I honestly find Enescu's Legend to be the most beautiful composition ever written for trumpet and piano. It is an original composition written in 1899 I think. Julien and I recorded it and every time I have a piano recital, I include it in the program. I consider it a very good work; it creates a special atmosphere. And I am all the more happier to be performing it here, in Romania.

Did this score place you in any difficulty the first time you approached it?
It is extremely well written because it faces one with all sorts of challenges. It is a compulsory composition in all the international contests or at the admission competitions organized by the universities, at least in France. It is like with the concerts of Haydn or Hummel - you can begin to study them early, but never cease to discover new aspects. The same thing happens with The Legend. There are thousands of ways of performing it, but different each time. True, this is a general characteristic of music. I have had numerous successes at competitions and contests with this work.
It is Enescu's sole composition for trumpet, as a soloist instrument. I have listened to other compositions of Enescu for the orchestra - the Romanian Rhapsody no. 1 as performed at Montpellier, at the beginning of February 2010. And I am thinking that there are others yet to be discovered.

How would you describe in a few words the features of Enescu's music?
It is music inspired from folklore, and one can see it in Rhapsody no. 1 too, especially in the score dedicated to the violins. In the Legend, one can detect an influence of the 20th century French music due, no doubt, to the fact that Enescu spent a lot of time in France. Some of the passages bring to mind Ravel or Debussy's music.

What was the most exciting moment in your career?
My career came to be, of short, as I wanted it to be - as a soloist I mean. Until now, I played in an orchestra. I decided however not to be part of an orchestra anymore because I feel good as a soloist in a concert or performing chamber music. One of the most recent exciting moments took place last year when I was awarded the Victoire de la musique classique prize. It was an important moment in my career. It opened many new possibilities for me, it brought me concerts in France and abroad. A proof of that is that I am here, at the Athenaeum. I think it was one of the best moments of my life, among many similar ones; but this is one of the most recent.
Then there is the launching of a new record that took place last month in France, on February 11th 2010. I do not know if it arrived here, but it will most certainly reach Romania as well. It comprises Russian works - it is titled Slavonic Spirit. I wanted to bring forth a Russian repertoire for the trumpet as well as many transcriptions. This was also an important moment since it meant the beginning of the collaboration with a famous record company where I will be registering other records too. Hence, a fruitful collaboration.

Were there any difficult moments in your career?
I am facing difficult moments every day. There are good moments, and there are bad ones. When it comes to the trumpet, things are even more difficult because one can never foresee the result. If at the piano you play G, then you are certain to obtain a G. I am not trying to insinuate that playing the piano is easier, but the trumpet poses many difficulties.

Did you have a role model to guide you in your career?
When I was young I listened to Maurice André. Especially when I behaved and my parents rewarded me by giving me his records. Maurice André represents for me the great maestro of the trumpet. He even phoned me yesterday to congratulate me on my last record which he adored. He is one of the great names and he had an extraordinary influence on myself, but on many generations of trumpet players as well.

Is there a composer whose work you enjoy playing more than others'?
I like to merge styles and genres when I make up a recital program. At the Athenaeum I will be performing different French music compositions: Fauré, Ravel, Enescu, Hersant, a contemporary composer. Yes, there are composers that I am particularly fond of. There are compositions that are required very often like Haydn or Hummle's trumpet and orchestra concerts, often performed simply because they are very famous. I could not say however that I have a special preference. Yes, I like Bach when listening is concerned. However, when it comes down to performing, I try to establish a balance between the classical music, maybe baroque, and the romantic or the contemporary one; a balance between all styles. It is what I like to do.
Petra Gherasim
Translated by Mihai Oana- Manuela, Andreea Velicu,
MA Students, MTTLC