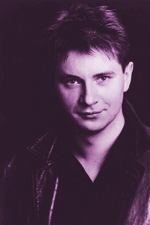 The laureates of the Stanisław Moniuszko Canto International Competition in Bucharest
Monday, 27 September 2010 , ora 9.57

Two of the winners of the Stanisław Moniuszko Canto International Competition performed on September 22nd, 2010 in the Aula of the Cantacuzino Palace, at the invitation of the Polish Institute. The two are soprano Eliza Kruszczyńska, awarded the Maria Fołtyn Great Prize and the prize for the bets soprano, and bas Daniel Borowski, the laureate of the 1995 edition. The two were accompanied on piano by Mariusz Rutkowski, the winner of the Best Piano Player, within the same competition. The second performance of the three took place on September 23rd, 2010, at the Lyrical Art International Festival in Sibiu.
The programme included Lieder and airs from Polish and Italian composers: Frederic Chopin, Stanisław Moniuszko, Giuseppe Verdi, Giaccomo Puccini and Gioachino Rossini. In the end, the Eliza Kruszczyńska and Daniel Borowski were kind enough to talk about the competition and not only.

Mrs. Kruszczyńska, you won the 2010 edition of the Stanisław Moniuszko International Competition in Warsaw. How does it influence your career?
This is the most important canto competition in Poland and I'm delighted to have won it. I am the first woman, and thus the first Polish soprano to win the Maria Fołtyn Award. The award came as a bolt from the blue and it brought along many contracts, performances, not only in Poland but also abroad, just like this one in Bucharest. In November I will be in Montreal. To win an award in this competition is a chance for the young performers to work and get important contracts.

What can you tell us about your collaboration with bas Daniel Borowski?
I am very pleased because I have found a friend and a professional who has helped me develop my vocal skills. I can even say we click and we enjoy being on the same stage together.

It is not your first time in Romania. What is your relationship with the musical environment here? For instance, you are going to perform in Sibiu, as well.
I came to Bucharest four years ago because I met soprano Maria Slatineanu Nistor and I have worked with her for two years. I am also delighted to perform in Sibiu because it is a new city and I hope it will be a successful night, just like the one tonight.

Mr. Borowski, your career is already an impressive one. How did the 1995 award in the Stanisław Moniuszko competition influence it?
It all started with that competition actually, because the jury was made up of extraordinary performers and excellent opera directors, both from Europe and from the USA. I met the casting director of the Glyndebourne Festival back then, who did not offer me a part within the festival but the chance to polish my skills at the National Opera Studio in London. I was very young, only 24. After only one year in London, I got the part of Fiesco in Simon Boccanegra. Several opera companies in the USA and England took part in the Glyndebourne Festival, and they made my schedule for the following four years. I was very surprised, I was young and it was a fantastic experience to get to know the West through major opera houses such as Staatsoper Unter den Linden from Berlin, La Scala from Milan, or those from Paris, Lyon, New York.

What can you tell us about the programme for your performance in Bucharest? Why Polish and Italian compositions?
It is said that the Slavic people have vibrant vocal chords for canto, for Verdi, which is true. I very much like the voices of Slavic performers for the Italian repertoire. This is why Eliza and I have chosen famous airs from Verdi, Puccini, Rossini - the most famous Italian composers. I must add that I have often collaborated with Romanian performers. I believe there you had and you will have excellent voices here. There are good performers, with wonderful voices and an impressive technique.

Will you focus on only one repertoire for you future performance?
I never focused on only one composer or one genre. I'm trying them all and I believe that a good performer, with good skills can sing anything, from lieder to Wagner, I perform parts from Verdi - Don Carol, Wagner - Dalant, a lot of Mozart - such as Sarastro and of course Lieder.
Interviews by Andreea Chiselev
Translated by Sînziana Mihalache and Andreea Velicu
MA Students, MTTLC, Bucharest University