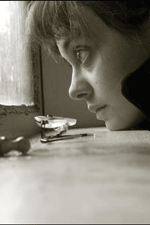 Chamber music and photography with Sabina Ulubeanu - at the Steinwayhaus, in Vienna
Monday, 7 March 2011 , ora 10.13

Sabina Ulubeanu, composer and photographer, presented on Monday, March 7th, 2011, at the Steinwayhaus in Vienna, a project called Colours of time - chamber music and photography. The respective programme contained three pieces by Sabina Ulubeanu - 'Lyrische Kedenz', Piano sonata, Cello and piano sonata - and it also included works of Domenico Scarlatti, Tchaikovsky, Bela Bártok and Paul Juon.
Sabina Ulubeanu herself gave us more information about the event at the interview:

Your artistic activity embraces two distinct areas - music and photography. How do you intend to combine them for your concert in Vienna?
The photos will be projected on stands, in the Steinway Room, and the audience will be able to see them while listening to the songs and in this way the two arts will appear together, will embrace each other because I believe arts must pass through time, they must be always united.

Tell us who the musicians you worked with for this recital are.
Adriana Paler-Nicolescu plays the piano and she is a very well known pianist in Vienna. She started studies there in 1999 and she became known thanks to her talent. A young and awarded musician, Soo Hyun Park plays the violin and Stefanie Alexandra Prenn plays the cello. This is my first time in Steinwayhaus, Vienna, but the others performers had sung there before, with different occasions. I truly hope this is the beginning of a beautiful collaboration.

You will have a diversified programme. There will be your own creations but also baroque, romantic or contemporary creations. What is the structure of this programme?
In the first part, there will be my creations and Scarlatti's Sonatas will appear as interludes. I want to say something about the title of the recital - Colours of time. We thought about a kaleidoscope that showed every musical piece in a subjective way, as seen by the artists. Furthermore, we have a very interesting programme planned for the second part because Tchaikovsky is a composer who was born and lived in Russia, but who included the European musical tradition in his creations. Bartok represented both the folkloric and Eastern features by our Romanian dances and in this way we are near this great composer. Alternately, Paul Juon is a Russian composer living in Switzerland, and he resembles Tchaikovsky in the sense that he was born in the East and he embraces tradition in his creations too. Thence, they are united by the time and the space born in their creations.
Larisa Clempuș
Translated by Florentina Cãpraru and Elena Daniela Radu
MTTLC, Bucharest University