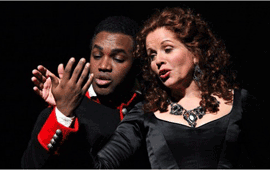 Talking to…
Monday, 7 March 2011 , ora 14.09

As you already know, Luminiþa Arvunescu was, at this end of the week, to be exact, on March 5
th
, 2011, in New York, where she commented live the performance of
Armida
by Gioacchino Rossini. The headliners were the soprano Renée Fleming and the tenor Lawrence Brownlee whilst Ricardo Frizza was the conductor. Below, you can read the interviews given by the three artists mentioned above.

...with the soprano Renée Fleming
'Armida' is a heroic role, of great virtuosity, written by Rossini for Colbran, for a soprano with a low fibre, but it is a very fluid score at the same time. What is funny is the character. I mean we the sopranos, spend a big part of our career performing ingenuous and innocent victims, honest-minded persons and it is so funny to perform at one time a witch who wants revenge on men. Rossini's opera is the second musical version with the same subject whilst Handel composed a nice version, too. Actually, the character of Amida has fascinated other composers and I think it is reproduced in at least five variants, among them one was Gluck's. Armida exerts an infinite fascination especially on men. What can be as frightening as a strong and seductive woman?
I think men are afraid of seduction and of women who are capable of extreme emotions.

Rossini's variant is different also because it is written only for a soprano, six tenors and two basses.
Yes, that's true! It was great to be the only woman on the stage. I have the most beautiful dresses ... And then, another interesting aspect is that all tenors are different. They all have different timbres and styles; we can speak about a 'display' of tenors. It is almost impossible to bring together six tenors at the same time. An important institution like the Metropolitan Opera is needed for such a project to be put on stage.

You performed this role sixteen years ago at the 'Rossini' Festival in Pesaro which functioned as a launching pad. What effect did it have on your career?
I consider that moment a twist in my career in Europe. It was 1993 when the show was recorded live, which was really thrilling for me. My career was at the beginning. I had sung at Glyndebourn and at the Royal Opera House, Covent Garden, London, but the show at the Pesaro was the most successful. This was because the role is in a bel canto style typical for Rossini and for me in Armida, Rossini come to the climax of the bel canto. For the art of singing, there is nothing more provocative than to sing bel canto. What is not known about me is that I totalize nine roles of bel canto, although I am not famous for that; but those roles taught me to sing: Mozart and bel canto represents for me 'the rehearsal room' regarding singing and I had a lot to learn.

Practically, I found out you received this role unexpectedly, someone had cancelled the contract and they called you three months before...
This is, in a way, the story of my life in these moments. Lots of opportunities came out homestretch, many recordings done at the last minute, many risks were taken, but that is how it happens at the beginning of any career.

This is a piece of advice for young soloists. Be ready because you can never know when an opportunity comes.
Exactly and then you must have the courage to do it.

... with the tenor Lawrence Brownlee
This interview will be broadcast during the first live transmission produced by Radio Romania Music from the Metropolitan State Opera in New York, so it is a première for our institution and for our listeners. That is why I would ask you to talk about the performance of Armida.
Armida is a wonderful mixture of drama, vocal intension and power.Renée Fleming is a wonderful partner and a wonderful singer; I have learned a lot only by being on the same stage with her. We had not known each other before the production of the performance of Armida last year, but we have became good friends ever since. She is a person from whom I learned a lot: from her expressivity and the way she moves on stage to the way she coloures the musical phrases. She is an absolute professional and it is an honour for me to be on the same stage with her. In fact, many of the artists who were cast in Armida are my friends.
As a show' Armida represents a true tour of force, there are six tenor roles, from which five are substantial, and we are very different. We all try to do our best; we have Antonino Siragusa, who joined us this year by replacing José Emmanuel Zapata, who had other commitments that prevented him from staying with us; we have John Osborn, who in his turn is doing an exceptional job, Barry Banks and Kobie van Rensburg. Even for the small parts, we have extremely important contributions and we have Ricardo Frizza, an amazing conductor.
Regarding Mary Zimmerman, the one who put the show on stage, I can say it was a great pleasure to work with her, because she offered a proper working environment. For me it was a wonderful experience and after five representations so far, I have grown into my character. I feel I found out more about him and I got used with the role. Renée and I can say we found that 'sweet spot' of the characters - to use an American expression; we try to make these characters credible, so that the ones who pay attention can interact with them. Personally, it is a pleasure to sing in Armida and I hope the listeners from Romania like this show as much as we the performers like it.

'Armida' is one of the 'opera serias' composed by Rossini. How would you describe it from your point of view?
Of all Rossini's operas, the audience is especially familiar with three of them: the first being without any doubt The Barber of Seville, followed by Cinderella and The Italian girl in Algiers. They are easy operas, funny, lively and playful, which also contain passages of virtuosity, but with musical phrases which can be easy to remember. In Armida, it can be said that Rossini stole himself - because you will hear in certain passages the same kind of vocal writing. In dramas it is necessary to have a deeper and bigger vocal depth. You have to capacitate more and to add more lyricism. Don't forget that these characters are serious, so you have to be able to express pain, agony, anger, and those feelings must be obvious. I think Rossini has also done a great job with his opera seria. It can be seen that as he gets older, he becomes wiser, which can be seen in Armida. But of course in this opera it is colour, well known vocal artifice, but on the other hand there are some things that predict the coming of Verdi; the Verist Movement, well represented by Puccini. Rossini remains undoubtedly a maestro of the Italian bel canto and in Armida, particularly in the score of the heroine, it can be easily noticed.

How would you describe the direct collaboration you had with director Mary Zimmerman?
We started with long conversations regarding the exact identity of my character, Reinaldo. We decided it is a character who fights with himself, he has interior conflicts and it is divided between love and duty. He loves Armeida, but he has the duty to fight for his country and to make Reinaldo a credible, real character, in whose sensibility are many feelings (he is not very happy or very sad but has many emotions which are between these two states) Reinaldo must be portraited so that it creates a bound between him and the audience. Yes, it is a complex character, under the spell of the witch Armida, but he must be observed how he grows with the drama, and depending on many coordinates which can affect him. Therefore, Mary Zimmerman told me: 'I do not want a specific play of the opera in general (there are people who do the same things in all roles), I want a character with which normal people can interact: I would like subtile acting, natural, but realistic'. This year, when I return to Reinaldo, I feel I can be more relaxed, more natural and show better to the people that fight between love and the duty imposed by honour.

But from a musical point of view, what was needed to show a more convincing variant of your character?
I have to tell from the beginning that the secret consists in quantization, because at the end of the opera you must be as fresh as you were at the beginning. Also, at the beginning you do not have time to 'warm up' to be prepared: so you must go on stage already warmed up. The score requires a vast high voice, covering a large area of registers. It has very low passages for a tenor, but also some very high ones. In the first duet which I sing with Armida, I have to intonate a low C for a tenor. Over two measures, I have to sing an acute D which must not be roared. So you have to be prepared from the first act, but to dose your energy in order to sing in the third act, which constitutes the most important part for Reinaldo. There, in the third act, exists a trio, which for Reinaldo is like an aria, a trio between Reinaldo, Ubaldo and Carlo: is one of the most known moments from the whole opera, after the aria of Armida from the second act; and your voice has to sound very fresh, free and full of accuracy. That is why, I have to dose my forces so that I will not give too much in some passages and too little in others, and to offer a very convincing trio in the third act together with my stage mates.

You have already told us something about the collaboration with Renée Fleming; how would you describe the relationships with the other five tenors?
Outside the stage we are all very good friends and on the stage you do not have the impression that you are 'working', when you are near people you get along with so well. I know that people think that having so many tenors on stage could get dangerous but I do not see things like that: because there doesn't exist any competition or rivalry between us. We are good friends and we respect each other, and that simplifies things a lot. On stage we can give our best through our characters; we can even dare a lot in our performances because we can trust the person near us. We reached a high level of responsability and assumption, that we have mutual demands, conversations in which our self - pride is not involved. There have existed moments this year and last year, as well when Barry and I, who are so good friends, we sat and talked and we asked each other: 'What can I do for you in this moment, so that your musical passage is correct?' He does the same for me: 'This is your moment' he says 'And we are in a second ground, but if you need me to do something, I will do it, to make sure that Reinaldo will be 'effective'. We all share this kind of communication and nobody tries to shine by himself. We all bring into life roles written by Rossini and if Reinaldo holds more importance during the action, it does not mean that I want to be more important than my friends. I only perform Reinaldo's role. So again: we get along fine on stage, because we want to help each other, the atmosphere is wonderful and there is nothing more beautiful than to have some partners with whom you get along with well.

If we are at the 'collaboration' chapter, tell us how you got on with conductor Ricardo Frizza?
Together with Ricardo Frizza I have done other shows. The only persons I did not know at the beginning of this show were the director and Renée Fleming. After I met them, we all became good friends and colleagues. Frizza really understands the style of the Italian bel canto but of course, he is an Italian! But he also approaches the score in an intelligent way and has an enormous respect for the music; and although he is not a conductor he tries to control everything. Also, he wants to work with every singer, to help him economize his force, which I consider to be an important aspect; because when we receive that sensation from the conductor that we are important, we want to give our best. Frizza and I got on excellently and I hope we will have many projects in the future, because it is easy to work with him.

Difficulties of the role
Reinaldo is a difficult role, as you have said, you have to cover three octaves until a deep D. Was Reinaldo the most difficult role you had to do and if not, which was it?
One of the difficult roles was probably Arturo in The Puritans. It is a very solicitant role, which has to be sustained during the whole show. There exists that aria in the First Act, but that is not the hard part; there is a trio with the baritone and the Queen which is pretty difficult. And because I am not a true lyric tenor (I put myself at an easier lyricism), and that is why I have to make sure I exploit the whole vocal capacity to sound like this character. I have to maintain the same intensity during the whole night. From a musical point of view and a dramatic one, the role from The Puritans was the most difficult: Reinaldo is difficult, but there are moments when you can relax. The duet I have to sing with Armida is one where the music has to fill your senses, the voices must mix harmoniously to create a round sound so as not to impose the yourself in front of a big orchestra, as how it often happens in The Puritans. But both roles are characters which I like to perform again and again; at least in Reinaldo, I would like to perform it endlessly, although Armida is not an opera put on stage too often.

Many people see in you the main rival of Juan Diego Flóres. How do you comment upon this assertion?
It is very flattering; I am an admirer of Juan Diego Flóres. It's weird, we both work in New York, we do not work at the same institution, but we are friends. We do not consider ourselves rivals and again, I respect him for what he does.What I can tell is that we are different, there are things he does and which are his potent points and which I do not do as well as him.There are areas where I feel I am the master, but there does not exist any kind of animosity, only friendship and respect. He said on many occasions with others and with me present there, that he respected the way I sang, a thing which I found very flattering. I am a big fan of the way he sings and I wish him the best. I hope that in the future we can share the same stage in the same production and leave something for the future. If an occasion should show up, I would be honoured to share the stage with Juan Diego Flóres.

Professional secrets
How do you prepare for the difficult musical passages, how do you approach them in a way in which you could surmount them?
I have learned from my teacher, a long time ago, that with difficult musical passages, you have to make them become part of you, of your body, of your voice. Many times, when I am home I look at those passages and I try to find a way to simplify them. My teacher always said that you had to have a map to know where you were heading.
You must identify those passages, have to see where the difficulty is and to realise how to pass over it, without making them sound different from a technical point of view; you must 'fool' the listener, make him believe that he listens to the same song in a healthy way, to make things easy for you. Even if is a vocal position, a certain position of the tongue, a breath made earlier. There are many methods to disguise those difficulties.
Someone told me some time ago, that the most important thing was to know what you were doing. Knowing the exact context makes you a good singer. The last thing to do is to sing. So sometimes, when I am at home I look over the score, looking at the passages which cause me problems, and two days later I study them and concentrate over those problems. If I can solve those things I can perform the role in the right context which will ameliorate my situation as a vocal soloist.

How do you prepare yourself for a show, do you have a ritual, any superstition before, during or after the show?
I try to treat every show day as a normal day. I like to dance salsa, so I do it often after the show to relax. Sometimes I go dancing the day before the show, to forget it; I try not to put pressure on the show, because sometimes people can retain a tension in them. I don't eat the same food, I don't wash my hands fifteen times before, I try to behave normally, relaxed, because I have discovered over the last few years that my best days are the normal days. I try to not concentrate on the idea that I have a show, a premiere or a new production.
When I am on stage, one of the things I always do is to think of how my teacher would tell to sing, to do those first phrases the way she would like to hear them; I check an imaginary list to make sure I have everything I need to feel involved, because I am already in the process of singing very efficiently. I do not have rituals before or after the show, I only try to be relaxed and calm. Maybe I go dancing salsa, a day before or after the show only to relax and to be myself. I try to be prepared and not to worry which might make me forget the text or the song or the phrases, I don't worry regarding the stage movements and this helps me relax when interpreting the character. If I succeed doing this the singing part comes along easier.

You recently declared you lost weught. Salsa could be the secret...
Salsa is a passion indeed and an extraordinary method to loose calories, but it is a question of taking the right decision.We have itinerant lives always travelling, we end the performances late at 11:00 p.m. or at midnight, starved, then we eat and sleep; so you have to tell yourself: 'This is the investment I want to make in my career, when I am slimmer and healthier, I feel better on the stage and I can do a good performance. 'Trying to maintain a healthy lifestyle can represent a battle for us. Sometimes I have a kilo plus or less, but I am happy that I lost weight considerably, and now I hope I can maintain this weight and continue my career with the same attitude and I will try to be as healthy as I can.

What message will you transmit to the listeners from Romania?
I would like to welcome you, and I am very glad that Armida can be listened to for the first time in Romania live from New York, together with Renée Fleming and I and my amazing colleagues from the MET. I hope you enjoyed it and you were satisfied with the artistic level.We are glad to bring this opera into life and I hope you liked it as much as us. Welcome to New York and I hope to come to Romania soon for a concert with my friends here.Who knows?

...the conductor Riccardo Frizza
From Brescia to the MET
Maestro, you were born in Brescia, a wonderful town full of that typical Italian charm. Now you are in the USA. How would you decribe this actual phase, your life in New York in contrast with the life you had in the town you were born in?
I grew up with the American myth, there were only American films on the TV, and when I came to New York for the first time I felt as if I had lived there for a long time. I like it here; I like the life and the city, the opportunities that they offer you. I am always touched when I come from Europe to New York. At the same time, I love my city where I was born, the historical buildings in Brescia, the Roman buildings and the archeological sites. Those are my roots.

After a fast preview of your biography, I realised that although you have an intense activity in the concert halls, you however prefer opera. Can you explain this?
I prefer opera because I like the theatre. As a musician I like to do theatre through music. I feel comfortable conducting opera, but I have to conduct symphonies because I think it is important for a musician to pass from opera to symphony, to some romantic composers, for instance. It is important to direct the attention to both directions. It is true although that opera is my first love.

What was the moment when you fell in love with this genre?
When I made my debute in Parma, during some festivities meant to celebrate Verdi, in 2001. That was the first time I was conducting the opera Rigoletto and I was feeling so comfortable and involved that I decided to continue conducting opera performances all over the world.

You made your debute at the Metropolitan State Opera in New York conducting Rigoletto and then The Troubadour.What did your debute at the MET mean to you? Conducting one of the biggest orchestras in the world, like that from the MET, can this be a coronation of your career as a conductor?
Yes, it was an amazing opportunity. My first year at the MET was excellent, I got charmed by the sonority and the capacity of this ensemble to play so well the Italian repertoire, in Verdi's operas.
The performers of this orchestra can follow you, no matter what you are conducting and they change it all into music. The performance of the score becomes easier when you work with them because they can follow you perfectly and there was a positive atmosphere between us from the first moment. They trust me and I trust them.
It is something that does not happen with the European orchestras. Here the repertoire is extremely well managed but you do not have the possibility to direct the orchestra wherever you want to. I think the MET orchestra is the best ensemble in the world.

How does conducting Armida at the MET make you feel?
Is it true what they say, that the MET orchestra is an ensemble which can play even without a conductor?
Yes, I think so. Opera titles like La Traviata, La Bohème and Rigoletto appear fifteen times in a season and the instrumentalists sometimes know the scores better than the most famous conductors in the world.

How is the opera performance seen from the conductor's desk?
It is quite difficult. Today the directors use the whole stage space and sometimes the soloist is quite far from the desk. There are moments when the choir is very far, which makes things difficult. But we try to do our job as well as we can, using our capacities effectively to find the best way to sing and play together. Many times the visual part must be at the same level with the music, so if we do not do everything we have to, if the music goes into one direction and what happens on the stage into another, and then the show is not complete. There must be a symbiosis between the director and the conductor to discover the best possibilities for the show.

How would you describe the experience to conduct Armida taking into account the things you have said before?
Armida is a difficult opera to be put on stage because the drama is hard to explain to the audience. The libretto is very complicated. It is not one of the best because so many things complicate. Last season, before the premiere we tried to follow libretto closely and I think it was the best way to put this work on stage. If you try to present Armida in a concert then everything is spoilt, but if the drama progresses in contradiction to the libretto, then the audience will not understand anything. The structure of this opera is atypical; it is not like the other operas by Rossini. It is an opera seria, like Semiramide, The Lady of the Lake or Tancredi. It is not like The Barber of Seville or The Italian Girl in Algiers, which are not buffe operas, totally different from the musical point of view.
The structure of the opera is more complicated because it has an aria with variations and in four hours of performance, Armida has a single aria. The most known is the bel canto style which everybody knows has three parts: allegro, a slow part and Cabaletta. It happens in the First Act , when Gernado dies and from then on there are only duets, with slow movements, trios, themes and variations, like it happens with Armida's aria, which is not exactly an aria, but a theme with variations. It is difficult; the structure is unusual even for the public.

How was your colaboration during the performances with the soloists, with Renée Fleming, with Lawrence Brownlee?
Working with Renée Fleming was an amazing experience because she is a total professional, who puts her heart and soul into what she does and it was easy to work with her. We started to prepare the musical part and worked together on the ornaments, in the first days of the last season. We tried to find a way to sing this music in an appropriate style of Rossini's intentions. She is so flexible, she answers with so much affability if you ask her to change a certain element and it was an amazing experience On the other hand, Lawrence Brownlee is an excellent tenor, very agile with a good coloratura and an artist like that is easy to work with from a vocal point of view because he can do everything you ask him. We started months ago to prepare the variations, because the score was written for the barito-tenor, a tenor able to sing a very low musical passage. So we started working together, to make adjustments where we needed so it would be easy for him to sing the higher notes.We work very well with him.

Returning to your personal opinion of the MET, how is a conductor invited again and again to conduct there?
To be invited at the MET is something natural if you have a professional career. But to be invited again, it means you have done brilliant work and you are appreciated by the artistic administration. It is more important to be invited again than to be invited for the first time, because it is establishing collaboration, a thing which is extremely important in the career of a young conductor.

Have you made friends at the Met? How do you consider 'the team' at the MET in contrast with that of other theatres where you conducted?
I work with musicians, and the collaboration with them is extraordinary. There are fantastic guides, very good assistant conductors, who help you work well. I have an excellent opinion about the MET team. I do not know if I can call them friends. I do not think you can mix friendship and professional life; I have friends in my birthplace town. But I have a good professional relationship with everybody.

Would you like to become a Kapellmeister? Like Franz-Welser Möst in Vienna or Christian Thielemann in Berlin or James Levine at Met?
It is a positionyou have to deserve and I do not think I deserve it for now. Obviousy, it is the dream of every conductor to have his own theatre, his own orchestra. I am waiting for a proposal. If it is interesting, I will take it.

What great conductor do you admire? Is there a conductor who is a model for you?
I do not have any models, but I liked Leonard Bernstein very much. When I was a student I grew up watching him on TV and listening to all his recordings. I also like the Italians conductors like Riccardo Mutti or Claudio Abbado. They are not models, but I always check their recordings, I always look into what they do or did when they were young. It is important to study the big conductors.

Have you worked with Romanian musicians during your career?
I have collaborated with The National Radio Orchestra in 1997 or 1998 and I conducted Beethoven's Eighth Symphony, invited by maestro Horia Andreescu. Then I came back at the Athenaeum, where I conducted Carmina Burana at the desk of the 'George Enescu' Philarmonic in 1999. It was an amazing experience. I also worked with a young soloist Valentina Farcas for Rigoletto, and in Dresden, I worked with mezzo - soprano Carmen Opriºanu for The Italian Girl in Algiers. There are many talented musicians in Romania.

What message would you like to convey to the Romanian public, whom you already know?
I invite the Romanian public to listen carefully to Lawrence Brownlee because he is an exceptional performer of Rossini's scores and he is extremely talented and has a great voice. He has the agility that no one has now. That is why I advise Romanians to concentrate on Brownlee. Renée Fleming is also extraordinary but she is already famous. Lawrence Brownlee will be a great surprise for the Romanian public.
Elena Enache and Elena Daniela Radu
MTTLC, Bucharest University