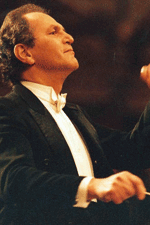 Cristian Mandeal - anniversary interview
Tuesday, 19 April 2011 , ora 10.49

Maestro Cristian Mandeal does not need any further presentation, as his value is appreciated in the country and abroad. ´Transilvania´ Philharmonic from Cluj-Napoca, ´George Enescu´ Philharmonic from Bucharest, Hallé Orchestra from Manchester, Copenhagen Orchestra and The Basque Country National Orchestra from Spain are only some of the renowned institutions and ensembles that have had benefits from Cristian Mandeal's conducting skills over the years.
On April 18th, 2011, the famous conductor turned sixty five, and so he kindly answered our invitation and gave us an interview:

Happy birthday, Maestro Cristian Mandeal!
Thank you.

You are definitely one of Europe's greatest conductors, with accomplishments and successes that many musicians can only dream of. What are your wishes for your anniversary?
First of all, to keep on being healthy for as long as possible and to be able to continue my activity and the endless projects still going on. No matter what you have accomplished in life, there are always things left that you fondly think of or with great desire for the future, to someday be able to fulfil. This happens to me too irrespective of the number of years that have passed.

Probably your most important project in the last few years has been the Romanian Youth Orchestra. What made you join this ensemble already famous and how did this influence your artistic career?
First of all, the need to have such an orchestra in Romania (there is this kind of orchestra all over the world). Then, the need was also for the perspective, wishing to form good orchestra musicians that could generally improve Romanian orchestra's performing level; in time they could advance from Youth Orchestras to Professional ones and most of them already have. So, this is the reason for which this orchestra has been formed and is still going on. As for the accomplishments, they did exist in everything that means working with them. There has always been an exchange of energy from me toward them and vice versa, and so every minute spent with them is a win.

Last week you conducted again some concerts for the Halle Orchestra in Manchester, where you have been a guest-conductor for over fifteen years. You have prepared a romantic programme this time and you have collaborated with a famous pianist. I would kindly ask you to give our listeners some details about these concerts.
The programme was a classical one comprising the stylistically romantic area. And so, we started with Preludes by Liszt, a work that here, contrary to the expectations, is not that popular. I was told that it had not been played for over ten years. The musical piece was a great success. It then followed the Piano Concerto by Schumann, having Jean-Bernard Pommier as a soloist, an old acquaintance of mine who came to Halle after many years of break. In the second part of the evening I conducted Symphony no. 3 by Brahms, the symphony that I might like the most of his four symphonies. There were three concerts in three different cities: Darby, Manchester and Leeds.

You have conducted the National Radio Orchestra for the first time in the last twenty years. When can the public see you again at the Radio Hall?
I hope that they will see me again the next year, around February, to re-do the route begun this year. I would very much enjoy continuing to conduct the Radio Orchestra.
Larisa Clempuº
Translated by Oana Marina Siliºte and Elena Daniela Radu
MTTLC Bucharest University