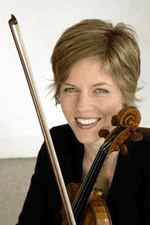 Interview with Isabelle Faust
Thursday, 8 September 2011 , ora 10.54

How does it feel to be back in Romania?
I first visited Bucharest in 1997, and this is something I perfectly remember as I had planned a long tour through Eastern Europe when I was pregnant. I was with the Munich Philharmonic conducted by Christoph Poppen. It is on that occasion that I played Karl Amadeus Hartmann's Concerto funebre for violin and strings. It was a wonderful experience and I was impressed by your country's high culture and by the audience who was deeply infused with the sound of the music.
I came back for the George Enescu International Festival five or six years ago when I played the Concerto for Violin and Orchestra by Sergei Prokofiev, with the Birmingham Philharmonic Orchestra conducted by Sakari Oramo, if my memory serves me correctly.
I was supposed to return two years ago, but I had to cancel due to some health problems.
I am very excited to be here again. This is a very important festival generating huge enthusiasm for music. This time I will play Concerto for violin and orchestra by Felix Mendelssohn, which will feature completely different aspects of my repertoire.

Indeed, you will be playing Mendelssohn's Violin Concerto. What are the feelings and emotions that this composition arouses?
Mendelssohn's Violin Concerto is one of those works violinists learn at an early stage in their career. It is one of those major violin concertos, together with compositions signed by Brahms, Beethoven, Tchaikovsky. I think I learned this when I was about 11 or 12, so it has been in my repertoire for a long time. There is a gracious elegance and a sense of joy gravitating around it. I find it very tonic, diaphane and playful, the last part in particular. The second part of the concerto is Mendelssohn's stroke of genius.

The concert will be conducted by Mandeal. Have you ever been on the same stage with him?
No. This is the first time. I am very curious and eager to work with him.

You made your debut with the Concerto for Violin and Orchestra by Antonin Dvorak. What does this composition mean for you?
I have always been very happy to defend this concerto in front of my colleagues, but also in front of the audience, since it is not one of the most acclaimed works composed by Dvoűák. The cello concerto is one of his most well known works. The Concerto for Violin is a very beautiful composition in my opinion, perhaps not very popular as it is technically challenging and hard to orchestrate, because it must be played with a natural rubato and it has a lot of beautifully adorned passages which must sound natural when played by the orchestra, and this is quite hard to achieve on stage. That is why I haven't always been very satisfied with my performances over time.
However, I was very lucky to meet Jiűí and the Bĕlohlávek Prague Philharmonic Orchestra several years ago.
That was the first time I had been fully pleased with the sound of Dvorak's concerto. I therefore recorded it immediately for Harmonia Mundi. It is a very beautiful music album and it all just came naturally.

Have you ever played one of George Enescu's compositions? What impresses you the most about the Romanian composer?
He was a great composer. However I have always been afraid I wouldn't be able to understand his very peculiar musical language. When I listen to my fellow musicians like Patricia Kopacinskaia and to others coming from that part of the world, my feeling is that they must have Enescu in their blood. I'm afraid that I couldn't play it the way I wished. But I do love his music and I always wanted to learn the Sonatas. I was so happy to play the Octet, it's a very complex musical composition. My direct experience with Enescu's music is not very significant, but I love listening to all of his compositions.

You play a Stradivarius known as the Sleeping Beauty. What is the story behind your relationship with this instrument?
This violin was built in 1704 and was condemned to oblivion for about 150 years. It sat lost in an attic until 1900 when it was discovered. The family who found the violin gave it a closer look and realized there was something special about it. So they took it to London where an expert confirmed its authenticity and also named it the Sleeping Beauty, because it had slept for so many years.
I came across it at a violin dealer and I instantly fell in love with it. Then, I looked for sponsors for several months, as there was no way I could buy it myself, its price being very high even 15 years ago. I was lucky to find a bank that was willing to purchase the instrument. I immediately started to play it, and it was a very interesting process. It hadn't been played for so many years and this was easily felt. Ever since the beginning, day by day, week by week, month after month, I could feel it grow little by little; it took me about six years to make it flourish and really awaken it. I have been very pleased with it ever since.

What is your philosophy of music in general?
I think that music is an essential part of our world and needs to be treated as such. It makes me sad to see that it is not perceived as important, at least not in Western countries, where economic problems overshadow culture in the first place and classical music in particular. I personally think that this is one of the most valuable assets mankind has and should always be considered as something very precious. I cannot imagine the world without music.
Petra Gherasim
Translated by Casleanu Gianina-Aniela
MTTLC graduate, Bucharest University