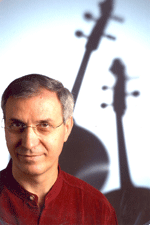 Marin Cazacu at the Age of 55
Friday, 30 September 2011 , ora 10.47

The cellist
Marin Cazacu
, concerto soloist of the George Enescu Philharmonic Orchestra and professor at the National University of Music of Bucharest, founder of the group Violoncellissimo but also of the Romanian Youth Orchestra, celebrated his 55
th
anniversary on September 30
th
. Given the occasion, the musician was kind enough to grant us a short interview:

Maestro Marin Cazacu, since you are celebrating your 55thanniversary today Radio Romania Music wishes you a very Happy Anniversary! How are you feeling today?
First of all, thank you for your wish. I feel happy as I consider myself an optimistic person. Everything that I have done I have done it with all my love for the people and music. I am 55 years old and I feel surrounded, first of all, by the love of my family, my friends, because up until this hour I have received numerous phone calls, and I want to pass this love on to the people and music because this is what keeps me alive and enthusiastic about everything that I do day by day.

The George Enescu International Festival came to an end and a new music season is about to begin. What are your projects for this autumn?
Besides personal projects, let us not forget that I want to continue playing the cello and I do it with love and passion, I will hold concerts in Bucharest and in other cities across Romania, and in November I will go to Italy and Belgium, I will continue what I have started a while back. I am talking about the activity of the Romanian Youth Orchestra, which will hold some extraordinary concerts at the Romania Athenaeum in October and November. At the same time, of course, the students of the National University of Music, where I have been teaching for about twenty years, are waiting for me to start a new year crowned with success, and this way I hope that life will pass by with ease, and I will take part in more and more beautiful events.

What kind of fulfilment do you derive from the teaching activity? I know that you are a cello teacher highly appreciated within the National University of Music of Bucharest.
Yes. I have always loved being a teacher. I think I inherited this passion also from my teacher, Serafim Antropov, and from Aurel Niculescu, my other teacher, but I personally feel that I have an attraction for teaching others what I know. And I am especially keen on communicating with people. I am a person who likes to reveal everything that I know and I want to pass on to my students the love that I have for the music and for the people.

What scores are you studying now? Are there certain composers that you are particularly interested in at present?
My repertoire has always been wide and included works ranging from the Baroque to the contemporary. Now I am studying suites composed by Bach, on my music stand I have Beethoven's sonatas, concertos by Dvoűák, Schumann and Anatol Vieru. As you can see, from classical music to contemporary music.

Very diverse, as usual. Where can the Romanian audience listen to you playing?
I will hold a recital at the Romanian Athenaeum, in October, than I will be playing on stages in Belgium, Brussels, and in Italy, Verona. In December I will be in Bucharest again, at the Romanian Athenaeum.

Thank you very much and have an excellent day. Once again, Happy Birthday!
Ioana Marghita
Translated by Raluca Mizdreaand Izabella Feher
MTTLC, Bucharest University