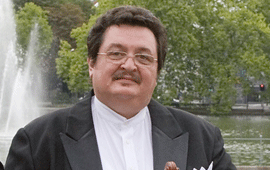 The 'ªtefan Ruha' international violin competition
Monday, 10 October 2011 , ora 14.56

The events from the 34
th
edition of
The Satu Mare Music Days
continue between 7
th
-9
th
October, 2011 at the 'Dinu Lipatti' Philharmonic, which hosts in this period The 'ªtefan Ruha' international violin competition.
We found out details about the course of this competition from an interview with mister Rudolf Fátyol - president of the jury, concertist soloist at the 'Dinu Lipatti' Philharmonic from Satu Mare and managing director of this institution.

You are opening today a new edition of the violin competition. How did the idea for this competition start and what are the novelties for this year's edition?
This year we are organizing the 5th edition of the 'ªtefan Ruha' international competition. When the maestro was still alive we organized two editions, and after his death we reconsidered the competition and we started to number again, starting with the year 2004. Thus, we can say that we are at our third edition.
Each edition has an imposed work included in the competition's program; in the first edition it was, naturally, a work by George Enescu, in the second edition the same - Piano and violin Sonata No. 2 in F Minor. This edition we imposed a work by Béla Bartók: Piano and Violin 'Romanian Dances', a work that was never missing from maestro Ruha's recitals.

What are the phases of this competition, the number of the registered competitors and their provenience?
The First Phase is standard, one of the Partitas or solo Sonatas by Johann Sebastian Bach, a Caprice by choice by Paganini and a selective part from the following concerts by Wolfgang Amadeus Mozart: KV.216 in G Major, Kv.218 in D Major or KV.219 in A Major, with cadenza. The Second Phase includes a virtuous work, and then, as I already mentioned, The Romanian Dances by Béla Bartók, and in the final one of the concerts by Beethoven, Mendelssohn, Brahms, Tchaikovsky, Saint-Saëns, Concerto No. 3 in B Minor, Lalo - The Spanish Rhapsody, Glazunov or Vieuxtemps - Concerto No. 5 in A Minor.
20 candidates have registered and 15 have confirmed their presence at the competition, from the Republic of Moldavia, Hungary, Germany, South Korea and, of course, from our country. We hope that it will be a high-level competition, like the other two editions, the first one being won by a Swiss violinist, and the second one by the young and talented violinist Vlad Rãceu from Satu Mare, who studies in Cluj-Napoca.

Who is in this edition's jury?
We are honoured to have as guests in Satu Mare mister prof. univ. ph.D. Grigore Constantinescu - the president of the Union of Critics, Editors and Musical Producers from Romania, the maestro Daniel Podlovski, miss prof. Mihaela Tomescu - president of the Foundation 'Remember Enescu', mister prof. univ. Dusen Kaseinov from Kazakhstan and mister prof. univ. ph.D. Sarosi Gyorgy from the Music Academy from Debrecen - Hungary.
Andreea Chiselev
Translated by Izabella Feher
MTTLC, Bucharest University