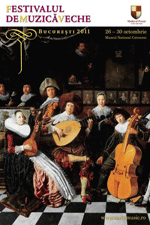 Festival of Old Music, Bucharest, until October 30th
Thursday, 27 October 2011 , ora 13.56

The events proposed by the Festival of Old Music include many surprises, among which a Romanian premiere - the presentation of the instrument called baryton. More on this, but also on the Festival in general, you are to find out from the following interview, given to us by Constantin Laurențiu, coordinator of the event.

What are your thoughts at the start of the Festival of Old Music?
We are nervous about the planning. Otherwise, nerves aside, we are very happy because it is a very special edition - this is the sixth edition of the Bucharest Festival of Old Music- an edition that proposes a periplus at the royal courts in the baroque Europe of the end of the 17th century. Practically, we are talking about a debut festival taking place on Wednesday, October 26th, 2011, at the Cotroceni National Museum, with a concert that is an absolute premiere in Romania, I am referring to the baryton concert. The baryton was Joseph Haydn's favorite instrument, which in time had disappeared, somewhere between the Classicism and Romanticism musical eras, but has since been rediscovered and - thanks to some wonderful musicians' efforts - has been brought back on to serve as concert and solo instrument.
The opening concert includes trios for baryton by Joseph Haydn, performed by the Ricercar Consort Ensemble conducted by Philippe Pierlot.

Regarding this baryton you have talked to us about and which will be heard for the first time by Romanian audiences on Wednesday evening, could you give us a physical description of it?
Its appearance is something between a cello or a slightly bigger viol and a theorbo, because it has some strings which vibrate freely and bring a plus to the propagation of the sound.
Petra Gherasim
Translated by Elena Enache and Alina Popa
MTTLC, Bucharest University