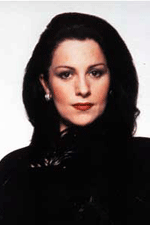 Angela Gheorghiu - interview on BBC, November 6th
Tuesday, 8 November 2011 , ora 10.37

Romanian soprano
Angela Gheorghiu,
known for her sensational personal life as well as for her remarkable voice,was invited onthe BBC World Service programme
The Strand
. Despite the rumours about her ever-changing temperament and the uncertainty that lingers over her concerts - all of them scheduled well in advance and people still asking themselves whether she will show up or not -, all critics have agreed that when she does show up, Gheorghiu is one of the greatest and most talented divas of all times.
Her latest CD, entitled Hommage to Maria Callas, is a collection of popular French and Italian arias and is a hommage brought to another great diva, Maria Callas. During the interview granted to Audrey Brown, Angela Gheorghiu admitted to being somehow influenced by Callas.

Angela Gheorghiu: I grew up in Romania, a country where people did not have the possibility of listening to opera recordings. I was 18 years old when I listened to the first Romanian recording and it was of another extraordinary opera singer, Virginia Zeani. Only many years later did I have the chance of listening to recordings of international performers, thus discovering Maria Callas. What came as a complete surprise for me was to discover her strong character. Her way of saying 'no' and her reactions to everything remind me of myself.

People compare you to Maria Callas, but I was wondering how you think you compare to her.
I am not Maria Callas, I am Angela Gheorghiu. I take great pride in being compared to her, no doubt about it. This is my saying 'Thank you, Maria. We admire you and love you and your music does us good.'

How did you choose the arias on this CD?
I was the one who chose them. I must tell you that never in my life have I asked someone something. I do not have questions, I have only wishes and I try in a diplomatic manner to make others trust my taste. Therefore, I chose the arias. These are arias that I have sung many times, for instance, the aria in La Traviata. I have never sung it in a studio. This has been the first time that I have recorded an aria from La Traviata. Then, I tried to add other arias that Maria used to sang. But the CD has my name on it.

How do you think you would have got along if you had worked at the same time?
Oh, just wonderfully! To be honest, opera singers from the past used to think they were in a permanent competition with each other, but, after all, the audience were their main critics. The rest was just a legend, a natural reaction to the fact that everyone wanted to be equally good. I will not give you any examples, but I have colleagues that I know would like to be like me. We are not in a competition with each other, because it is not easy to be one of many. After a twenty-year career, I have come to realise that keeping myself at the same level for such a long period of time is not an easy task.

It really is not. What could you tell us about your similarities to Maria Callas? She was known for her fiery temperament, you are known for speaking your mind and also for being well convinced that you bring something new to the world. Do you think these are the reasons why women like you and Maria Callas are successful?
Yes, I believe so. I do not want to draw a line between men and women, but we all know that even nowadays everything is harder for a woman. I do not do anything revolutionary. I am who I am and I behave according to my nature. I come from a country where you were forbidden to have your own opinion or to be yourself. I am not afraid to be myself and I am not afraid to say 'no'. These are the reasons why sometimes I am described as the 'black sheep' of the opera world. But, when I look back on my career during the past twenty years, I say to myself: 'Angela, you are right in doing so!'

Do you have a particular favourite aria on the CD? It features only French and Italian composers and I was wondering: where are the Germans, I mean, the other composers?
I like singing arias by German composers as well but, as you know, she did not sing German arias. She sang Wagner, but in Italian. I would like to sing arias by German composers, maybe Wagner and Richard Strauss, because I remember that Strauss appreciated three Romanian sopranos. If I were to refer strictly to my repertoire, yes, I do have a favourite work, Samson et Dalila. I like this opera very much and I hope that one day I will sing it on a stage. It is an opera that I have always sung in the bathroom.

Translated by Raluca Mizdrea and Ruxandra Câmpeanu
MTTLC, Bucharest University