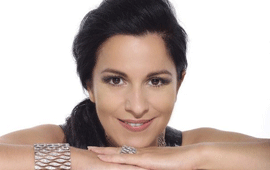 'I have lived La Bohème'
Friday, 25 November 2011 , ora 10.09

I have honestly thought right from the beginning that the Maria Callas tribute disc is the one that best represents Angela Gheorghiu. I think it represents the past, present and future for you.
Yes, somehow it does.

Then let's see what the past, present and future mean...
First of all, I have to explain myself a little bit... The idea of the disc started with Habanera, that I had worked on with Maria, because that was the first time that such a thing was technically possible with opera music. We both work with EMI; if we hadn't had that possibility - that fact was of big importance - therefore, there were some elements that led to it… And when I received the proposal, I was surprised and I asked myself 'What do they mean?' I had already started working on a Romanian music disc. I had recorded four or five songs when I received the proposition about Maria Callas.

So it was the music company that came up with this idea?
Yes, it was. But they were only thinking of doing a project that involved her; they didn't know exactly what they wanted. That's why I thought that it shouldn't be a dramatic aria, but something that would fit both of our voices, and also, because I knew we would film a video for it, I wanted to create for myself and even for Maria the image of a happy free woman, a fighter. I mean, what I always say is that in opera we like crying - drama, melodrama - there is an endless source of tears. We like it, it's thrilling, because it conveys a lot of feeling, but I thought that Habanera was more appropriate and I accepted the proposal. And it is very important that it was technically possible and that we both worked with EMI.

And the result is amazing…
Yes, it is amazing. I'm glad I accepted to do it, also because when Maria was my age she had long stopped singing. Therefore, I wanted to pay her a true tribute and that is why the repertoire is eclectic, I didn't want the disc to contain only what she performed on stage or what she recorded; each aria has its own story - it was chosen for a reason.

We'll speak about each aria that you included on the disc…
Let's start with La Bohème. La Bohème is my story…

It is your story and what I thought interesting was that it was not the first aria you performed. It was the wonderful Donde lieta...
It was my first successful aria. Successful in what way? It is the aria I sang for the audition for Covent Garden. And thanks to this aria - it wasn't even necessary to sing the other one I had prepared - I convinced them. Moreover, La Bohème is dear to me because it means London, Covent Garden, my private life.

This is why I have said that this disc represents Angela Gheorghiu completely, because I saw La Bohème. It wasn't an important performance for Maria Callas, but I knew it was important for Angela Gheorghiu.
But it was a strange moment, because I think that La Bohème needs more...

Warmth and simplicity, I'd say…
…and it also needs to be a life style. I have lived La Bohème.
Luminița Arvunescu
Translated by Mihaela Dănăcică
MTTLC, Bucharest University