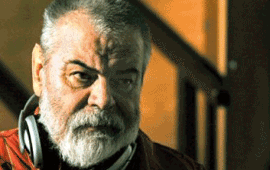 Radu Gabrea's Two Worlds in Music
Wednesday, 19 January 2011 , ora 15.55

On Friday, January 21st takes place the première of the new film by Radu Gabrea called Two Worlds in Music made of two parts, Concert at the Black Church and Looking for Schwartz, each of it describing a different cultural world, namely the classical music written by the Saxons in Transylvania and the klezmer music.
First, I asked director Radu Gabrea why he wanted to make a film about music.

Needless to say, music is part of the art. The idea for Concert at the Black Church came from my late friend, Manase Radnev - TV producer, screen writer and well-known writer - to whom the film is actually dedicated; the idea also came from Horia Andreescu, the great Romanian conductor. While we were talking about making a film on the Black Church, the two came with the extraordinary idea that the film should be based on the discoveries Horia Andreescu has made concerning some works of Saxon composers in the 17th century, the Transylvanian baroque music. I was glad that Horia himself actually had the time to tape these concerts.

What exactly is this first part of the film about?
It is a detailed history of the Black Church with exquisite recordings made inside the church which unveil some monuments and angles that are not so familiar. It is also about several Saxon composers who were very famous in Europe in the 17th century, one of them having been colleagues with Rameau in Paris. They are artists who brought a great contribution to Europe's music but who are still unknown today.

How about the second part, Looking for Schwartz?
The film has two parts because I want to prove that on the territory of Romania there have been many extraordinary cultures, which unfortunately have gradually disappeared. I am talking about the German culture, the Saxons from Romania and the Yiddish one, the important culture of Jewish people from central Europe who lived in northern Moldavia, in Basarabia and Bucovina. They both want to prove this multiculturalism which appeared in Romania and which we ignore.

The première with audience of Two Worlds in Music takes place on Friday, January 21st at the Union Cinema in Bucharest starting from 18.00. The second one is scheduled for 20.00.
Maria Monica Bojin
Translated by Georgiana Mîndru and Andreea Velicu
MA Students, MTTLC, Bucharest University