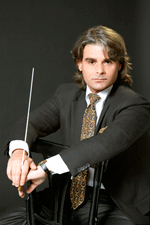 'I do not do this job for the applauses. It would be too easy.' - Interview with Conductor Ion Marin
Tuesday, 22 January 2013 , ora 9.27

These days,
Ion Marin
is in New York. He is a conductor at the
Metropolitan Opera House
- the most important lyrical theatre in North America and perhaps in the whole world! - a new series of performances with Giacomo Puccini's opera
La Rondine
and he is very successful; his success is commented upon and underlined by the entire press in New York. Now, the Romanian audience can take part in this beautiful performance, if they listen to 'An evening at the Opera' on 26
th
January (at 7.50 p.m.) - broadcast simultaneously by Radio Romania Music and Radio Romania Culture - straight from the studio of the
New York Metropolitan Opera International Radio
.
Here follows an excerpt from the interview that maestro Ion Marin gave to Luminița Arvunescu, the New York live broadcast host.

... I would like us to talk about your certainties, your emotions and your ambitions; and, in this context, my first question would be, when did you have the certainty that conducting music was your calling?
To be honest, I did not expect you to start with Ancient times…

Do you consider that so much time has passed since that moment?
It has been almost four decades. A reporter in New York has actually written recently that I was one of the veteran conductors here at the MET and he is right. I had my debut here in 1994, and I have been conducting since the 80s.

But when was that certain instant when you fully decided that conducting would be your 'job'?
It was early, quite early. But first, I wanted to write music, so I turned to composing and only later, when I actually started to compose music, did the passion for conducting arise. But I was 14 or 15 when I knew that I wanted to conduct.

I recall that your conductor debut was one of the most acclaimed ones in Romania in the 80s. How much did those applauses count for your decision to go on towards a career in conducting music? How much did the emotion of those applauses value?
Generally - and I can say this with my previous experience - the audience or the critics' applauses do not always suggest that your concert was very good. The orchestra's reaction is much more important. Your orchestra is your first audience and certainly, its reaction is the fairest thermometer for me. Personally, I do not do this job - and never have - for the applauses. It would be too easy. After all, applauses can sometimes be ordered… So, it was not they that made me follow my calling, but rather what occurred and what was written in between the notes, the emotion that I understood I could create and then convey, with the help of the orchestra and the audience. All of these gave me the certainty that this was my calling.

So, at least for you, true confirmation is given by the orchestra…
Yes. In fact, your real confirmation comes when, perceiving the silence in the hall, you understand that you are producing a certain quality of listening. And I am referring to the emotion that music triggers and that turns into a quality of listening, one that is very different from the one we use every day. It is rather an alchemic transmutation: one goes from hearing to listening, while conscience moves from the physical to the metaphysical.

… and the certainty that you have made a good concert comes from… the silence during the concert, from the quality of the listening. Thus, you must know before any reaction of your audience if it has been a great evening or not, right?
Of course. What is the conductor? He is the one who physically generates the music, on the one hand, and the one who guarantees its quality, on the other hand. Or rather you try to be the one who guarantees its quality. That is why, you have to be your first critic. And this was, after all, one of the things Herbert von Karajan confirmed very early. He always used to say: 'don't ever read a concert review, because it is only you has to know how good the concert was.' And he is right: there may be extraordinary reviews for a concert that you, as a conductor, consider less successful - and then they are good for nothing, just like there may be bad reviews for a concert that you knew was successful and for which you gave everything you could - once again good for nothing. So Karajan's advice is indeed right.

In this case, only you know the best moments in your career. Will you tell me which you consider the most successful?
Now, I wouldn't like to sound too proud, but there are quite a lot. Secondly, I have never had this tendency towards drawing the line and I consider it more of a journalist's curiosity or a biographer's necessity…

… which you will not take the side of, for now.
Not really. On the other hand, let us not forget we live the same concert a few times and we present the same musical programme at least 5 or 6 evenings in a row; most of the time the performances get better. And then, you have to detach and work for your next assignment, not thinking about the past. It is only once in a while that you remember of a concert or another. It happens to me that I remember a certain concert when I am rehearsing and testing the acoustics of a new hall with a piece that has nothing to do with that particular concert. It is very interesting. Then I re-live the emotion of a certain night in the past, from a totally different place, with another orchestra. But otherwise, I always look forward to the next programme, the next concert.

I am convinced you have some reference points that help you quantify your success, from time to time. What would these be?
I could certainly give you a few highlights of my career, but I consider that would be artificial. For instance, the productions of Ariadne auf Naxos by Richard Strauss that I conducted at the Metropolitan Theatre in '94, with Jessie Norman, are some of the most beautiful performances of my career; or those with the opera Manon by Massenet at La Scala, in 2006, directed by Strehler; The Marriage of Figaro in Vienna, the concerts at the Berlin Philharmonic…

You started by conducting opera performances. Why is that? I know you spent the first years of your career at the Staatsoper in Vienna. Has opera music remained your favourite repertoire since then?
What I love is 'singing'…

… vocal singing, you mean…
No, not only that. In my opinion, instruments sing too. And this is exactly what I try to do in my symphonies: make the instruments sing. I am sure you understand me better than other foreign journalists, as you have the advantage of being Romanian native because it uses - unlike other languages - the same verb for instrumental 'singing' and for the vocal one. This way, instrumental singing becomes a music 'performed' with sensitivity - very much sensitivity - which makes the whole being take part in it. This is what I am looking for and what I am trying to do as a conductor. So, however strange it may seem I make no distinction between a symphony and an opera. In fact, most symphonies are operas with no words and no stage movement - and they all follow a certain path of musical emotion. No, I cannot say I prefer musical theatre to a symphonic concert. Opera theatre is sublime, extraordinary, but it always has a bit of hazard, especially over the last 10-15 years, when one cannot always guarantee the quality of 'making' music. And then, you must know when to say 'no', when things are not or you feel they are not what they should be and you must choose very carefully who you are going to work with. Because I am just a musician, I am not a theatre manager or an opera season planner; and what I am interested in is that opera performances help me make that sublime form of music in a theatre context. And this is not always easy, when you get opera directors, singers, art directors… Perhaps I exaggerate in my requirements, but I can only work if I have the certainty that no one will block my way to understanding and conveying music.

Where have you always had the certainty that you would work 'according to your conditions'?
At the MET. The Orchestra of the Metropolitan Opera in New York, along with the Vienna Philharmonic Orchestra, is the best opera orchestra in the world, and they are way, way ahead of other opera orchestras.

What is it that makes them special?
It is their flexibility, their musical range, their precision, their ability to concentrate… Another remarkable thing is the way in which they balance their interpretation with the performance on stage. That is why, I am happy to be back here at the MET. Returning to this orchestra made me very glad. Here, I met instrumentalists who played with me four, eight, fifteen years ago… The generation has changed, there are several new instrumentalists, but the great 'school' of the Metropolitan is still alive and kicking.

Besides, at the MET, opera direction is still quite traditional.
Yes, it is quite the paradox. Although it is a North American theatre, very liberal in certain respects, directors are forced to respect music, musicians and even the opera audience here.

Perhaps that is why the MET is an activator of the biggest names in opera…
Fair enough.

And the fact that you are already considered a 'veteran conductor' at the MET - as you asserted in a newspaper, has recently dubbed you, can only flatter you; I think the MET is, and I say it advisedly, the best-known theatre at the moment. Therefore, do you still have any unfulfilled desires or ambitions?
I know that you as a journalist have to ask me such things. But I can't answer you because I know for sure that I have never walked a straight line and I never will. Of course, there are things I want to do, certainly - I wouldn't call them 'ambitions', but rather 'musical worlds', works that I would like to explore or programmes that I would like to conduct again.

You have reached as far as Richard Strauss' works in opera. Are you going to go further than that?
I have gone further than Richard Strauss. I conducted Berg's compositions - in Vienna and quite a lot of Britten's: two productions of A Midsummer's Night Dream at the Semproper in Dresden and in Copenhagen, Billy Bud in London and Copenhagen. But in opera you can't plan too much ahead because you never know what voices are available, so to speak. I would do a lot, but they would be operas whose cast would be terribly difficult to find these days.

You have never conducted pre-classical opera, or made any pre-classical concerts. Doesn't that tempt you? Wouldn't it be something new and worthwhile?
Not really, no.

Does it bother you that the 'pre-classical' has become… a trend?
It is a trend launched by all sorts of theories about so-called period instruments and, like any new thing, it'll live for a while. It isn't mature yet and then it is so false, sophisticated and pseudo-philological that I am not at all interested in. Not at all.
I really don't know if there is something I want right now. I have conducted in all great opera houses - and not once, I still conduct great orchestras around the world, I have done all of Mahler's symphonies, all of Strauss' symphonic poems, all of Ravel's symphonic work, all of Debussy's… Besides, I have long since gone out of the statistics area and piling up diplomas. I do not collect performances anymore and, instead, I am trying to enjoy what I have and this is the joy that I am trying to convey to the audience.

Translated by Irina Borțoi and Elena Daniela Radu
MTTLC, Bucharest University