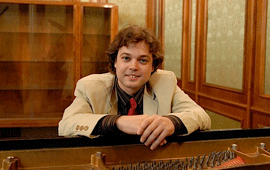 An Interview with the Pianist Andrei Licareț - His Recital at Carnegie Hall
Friday, 8 February 2013 , ora 9.35

On 6
th
February, 2013, the pianist Andrei
Licareț gave a recital in the Weill Recital Hall of the famous concert venue Carnegie Hall in New York.

What was the context of this important recital and how would you describe your experience at Carnegie Hall in New York?
The context had nothing unusual; it was a recital in the Weill Hall. Obviously, it was a unique experience because Carnegie Hall has a legendary, almost mystical aura. Of course, it's a very beautiful dream to play on such a stage and I feel really happy to have been able to make it happen.

How did you choose the programme for this recital and how did the audience receive it?
There were mostly works I have been playing for years, that I have studied and which I love very much. The programme had certain symmetry: it consisted of two great romantic works - Schumann's Kreisleriana and Chopin's Sonata No. 3- and works tagged as impressionist, though this label is not equally correct for both cases - four of Debussy's Préludes and the Pavane from the Suite op. 10 by George Enescu. Of course, I also wanted a Romanian composer and I chose Enescu. Since he played here so many times and was successful as both conductor and violinist, I thought it absolutely normal that his name should be on my playbill.

What did you think of the audience there?
The audience in New York is, obviously, very knowledgeable, since they enjoy concerts every day, so they have seen and heard a lot. I was glad that the programme had a very good reception. People loved it, I think they enjoyed themselves…it was a successful evening. I also had two encores, so I think that all went well.

What about your next performances?
After I return to Europe, I'll give a recital in Berlin, Germany. Afterwards, I'll leave for Mexico where I'll have a concert with the Mexico City Orchestra (one of the symphony orchestras) in two weeks' time, playing Rachmaninoff. Then there will be other recitals in Europe.
Andreea Chiselev
Translated by Mihaela Olinescu and Elena Daniela Radu
MTTLC, Bucharest University