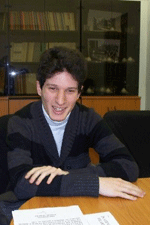 Interview with Pianist Andreas Iliuță
Wednesday, 13 February 2013 , ora 9.29

Although he was born in Milan, the young Conservatory student Andreas Iliuță introduces himself anywhere he goes as a Romanian pianist who has settled in the Peninsula.
I was born here in 1991. My parents have lived in Italy longer. I studied the piano in Italy, I graduated from the high school here and we basically only live in Italy. Yes, I am saying I am Romanian, because my parents are Romanian and I feel that this is my origin, as well; after all, it does not matter where you live, it matters where you come from, and I think a part of me is still Romanian, although I can't say I don't feel Italian at all, but Romania is still on the first place, so to speak.

When you go to Romania, where do you go? What city?
I go to my grandparents' who live in Oradea, and it is usually during holidays, mostly in the summer, when I don't have classes, that I go and spend a month or two with them.

What do you like most about Romania?
I have a lot of friends. It is much easier to make friends there than it is here. This would be the first thing, I'd say. There are also a lot of positive aspects there; I wouldn't know how to pin it down to a few, but I like it a lot anyway. Especially because I find myself more easily when I am there.

How did you discover your love for the piano?
Everyone on my father's side of the family is a musician and I started studying the piano when I was three and a half. It was my father who sat me at the piano for the first time, he tried to see if I was good at it and I was, so we kept going. We hope it will still be the same from now on.

Would you like to continue your studies?
Yes, I am in my third year now and I think I'll do the last two years here, in Milan, or somewhere else. I would love to go to Germany and I'm hoping it will be fine.

Is it difficult?
Yes, it is. It is pretty difficult, because everyday study is very important, especially in music, and without three to four hours practice, you cannot accomplish too much. You need to be very consistent, so to speak.

How much time do you dedicate to music?
The days I don't have a lot to do, I study four or five hours, sometimes even more. I think all this time is necessary in order to continue, otherwise it isn't possible.

Would you like to play in Romania, as well?
I already have and I enjoyed it very much. It was in April 2011 in Oradea, with their Philharmonic Orchestra, and I also played here, in Milan, with the Philharmonic Orchestra Bacău, at the University of Milan, and I loved it. It was great!

Do you have a favourite composer?
Yes, I love Franz Liszt in particular. I think he is my favourite composer at the moment and I have played a few of his works, so for now he is my favourite.
Elena Postelnicu, Radio Romania correspondent in Italy
Translated by Irina Borțoi and Elena Daniela Radu
MTTLC, Bucharest University