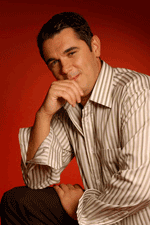 Romanian Singers Abroad - The Tenor Călin Brătescu
Monday, 18 February 2013 , ora 9.07

Graduating from the
George Enescu
Academy of Arts in Iasi,
Călin Brătescu
completed his artistic training under the guidance of the tenors Corneliu Fânățeanu and Ion Buzea and of the mezzo-soprano Viorica Cortez. In 2003 - the year when he became a laureate of the
Hariclea Darclée
International Voice Competition - the tenor Călin Brătescu started his artistic ascent to the stage of the Bucharest National Opera . On the most important lyric stage of the country or at the Opera Houses in Timisoara, Cluj and Iasi, Călin Brătescu wasadmired in roles such as: Don Ottavio in
Don Giovanni
and Ferrando in
Così Fan Tutte
by Mozart, Alfredo in
La Traviata
by Verdi, Rodolfo in
La Bohème
and Pinkerton in
Madama Butterfly
by Puccini.
Back in Romania for a short period of time, Călin Brătescu was kind enough to answer our questions:

The listeners of Radio Romania Music and the visitors of its site will be glad to receive news of the tenor Călin Brătescu. And I would like you to start by pointing out your main performances in the 2011-2012 season, when you performed in Frankfurt, Köln, Bordeaux, Timisoara, Cluj.
Last season meant my debut at Oper Frankfurt, with the opera Adriana Lecouvreur by Francesco Cilea, in September-October. In Köln I participated in a project with Tosca by Puccini, under the baton of Markus Stenz in May 2012. With Tosca again, I made my debut at the Paris Opera, under the baton of Paolo Carignani; I'll return to Paris in May, for a project with the opera La Gioconda by Ponchielli. I'll return to Frankfurt in January 2014, for a project with Tosca, together with the Romanian soprano Cellia Costea. I come across a lot of Romanian artists in all operas, both in the orchestras and the choirs. This is even more frequent when it comes to soloists; I have more and more often the pleasure of singing with other Romanian interpreters.

What other projects do you have for this season?
I am to leave for the Hamburg State Opera to perform Tosca. In 2014 I'll go to Liège with the same opera. The Kazan Theatre in the Republic of Tatarstan - Russia is very dear to me; I was surprised to find there a very big and beautiful theatre, with soloists and an excellent artistic department. I'll return on this stage.

You're in Romania for a short period of time. You were in Iasi. What happened there?
I had performances with Rigoletto, Lucia di Lammermoor and Tosca. Very good things happen, which is really important.

I'd like us to go back to the Frankfurt topic and the performances with Adriana Lecouvreur. Can you tell us more about this production, the partners and the conductor?
Maestro Mark Shanahan was the conductor. Adriana Lecouvreur was interpreted by the well-known soprano Annalisa Raspagliosi and by a great surprise in the good sense of the word - Cristina Păsăroiu, a 26-year old Romanian soprano who was a revelation to the Frankfurt audience. I wish her a successful career, as I wish all my colleagues. Vincent Boussard was the director and the costumes were created by Christian Lacroix. These are important names in the world of theatre and fashion, so you can imagine the magnitude of the performance. The whole vision was a mix of classical and modern, enjoying a fairly good reception by the Frankfurt audience.

If you were to choose one of the roles you have interpreted lately - Don Jose, Maurizio, Cavaradossi - with which have you felt most comfortable?
If I were to compare them, I would say that the role of Cavaradossi (in Tosca) is the dearest to me and the closest to my voice.

What roles do you intend to approach in the future?
I'd like to play Riccardo in A Masked Ball and Hoffmann in The Tales of Hoffmann; Don Carlos in Verdi's eponymous opera is also on my wish list and we'll see where things go from there.

When you tackle a new score, do you listen to other interpretations? What are your benchmarks?
There may be many potential models, but for me, the most representative in the world of tenors is the well-known Franco Corelli. He is a symbol who will continue to be with us, probably for ever.

You were on important stages. Which was the theatre where you felt best?
I'm a friendly person in general. I felt I belonged in all the theatres. I felt really good in either Frankfurt or Paris.

But you might feel that some theatre has a better sonority than another.
This is a different issue, practically related to a theatre's acoustics. Generally, theatres in the West have very good acoustics. Of course, there are also some exceptions. For example, one might argue the case of the Paris Opera, with a big stage and a very wide opening, but whose acoustics are said to be a little unsettling for the soloists performing there. But, with a good technique and mustering the necessary courage, things can go very well.

What other stages would you like to perform on?
There is, of course, a list and every artist who wants to have an important career aspires to perform in the most important theatres. I wish to sing at the Metropolitan Opera, Scala or the Berlin Opera, a theatre I'm looking forward to. Anyway, a theatre is the place where we vibrate and we do what we are meant to do. It doesn't matter if it's the biggest theatre; the important thing is to do what we want.

What do you most appreciate in a stage partner? And please name a few of the partners you collaborated with.
There are many singers and, unfortunately, very few artists. Besides a perfect and well grounded technique, what I want from a stage partner is to feel that I have that character next to me. I have this vibration; I always get deep inside the part I'm playing. As long as I can have around me partners whose vision merges with mine in this respect, I am all right; it can be said that I have beautiful dreams. Because…what do we do? We go on stage and dream of being someone, a character from a certain period - that is what being an artist means to me. Many times I prefer having next to me a true artist rather than a perfectly polished voice.

And from this point of view, who is the partner you most admired?
In Paris my partner in Tosca was Martina Serafim, a name with resonance, a person with an established status within the industry. The part of Scarpia was performed by Sergei Murzaev, a typically Russian voice and an artist with an exquisite acting technique. I'm really looking forward to meeting this baritone again in Paris, in May, when I'll have Gioconda. Many things can be said about voices. Recently, I've been to the Toulon Opera, where we performed Carmen and my partner was Varduhi Abrahamyan, an Armenian singer who is both beautiful and talented. The soprano Tatiana Lisnic was also on the same stage, in the role of Micaela - here's a name that we know in Romania. And the list can go on. I remember that in Bordeaux, where we had a performance with Macbeth, the title role was interpreted by Tassis Christoyannis, a baritone who remained in my heart and whom I really wish to meet again.

Among the productions you participated in or you watched which ones did you like best? Do you like classical or modern productions?
I'm a fan, if I can say so, of classical productions. I'm a classic. What takes place in the world, especially in Germany, with this explosion of modern ideas and changing the characters, the sense of the opera…I'm not pleasantly impressed and I can't identify myself with it. We are professionals, of course, and we have to do our job. We can't do just what we want or things can't happen only how we see them. You asked me about my favourite production. I sang in Carmenin Liège, two years ago, in winter. As a matter of fact, there was a live broadcast on the internet. I think it is representative for what I see as a classical, beautiful production, with a perfect logic of the characters' personalities, with classical costumes and settings. I'm glad when I start a new project and at the first meeting, the stage manager's and scenic vision is presented and if I'm lucky and it's a classical one, I already feel much calmer.

Please name a few of the conductors who shaped your artistic evolution.
Paolo Carignani - here's a conductor with whom I collaborated very well, an illustrious name. We worked together at the Paris Opera where I performed in Tosca in November 2012. I'll play the part of Enzo in the opera Gioconda, in Paris, under the baton of maestro Daniel Oren, a name with resonance, and I hope we'll have a good cooperation.

Will you return on the stage of the National Opera in Bucharest?
If I am invited, I'll certainly return. I sure will! I haven't sung there very often these past few years, because of lack of time; maybe two or three times in a season. I was supposed to have a performance with Carmen, but in the end the project fell through. There have been certain changes at the National Opera and I don't know what will come next. If I am invited, I'll certainly be delighted to go there and sing.

What are your hobbies? How do you spend your spare time?
I like driving very much. That is why for most of my projects I drive across Europe in my car. Everybody says: 'You're crazy. You can get on a plane and in three hours' time you're there.' It doesn't matter; I'd rather drive for two or three days. It's a real pleasure to sit behind the wheel and drive thousands of kilometers.

A message for the listeners of Radio Romania Music?
I wish that what we do, despite the hard times and the obvious problems with which the current societies have to deal, didn't disappear too soon. I wish the audience to understand - it's very important! - the difference between quality music and kitsch. The concept of 'star' has deteriorated very much in the past years. 'Stars' are a dime a dozen these days, so we've forgotten what a star really is. I don't even know if being a star is all that important, what really matters is to do well and profoundly what you do. Stars nowadays are not exactly what stars used to be.
Jeanine Costache
Translated by Mihaela Olinescu and Elena Daniela Radu
MTTLC, Bucharest University