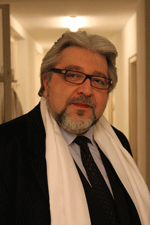 Interview with Bass Dan Paul Dumitrescu
Friday, 15 March 2013 , ora 7.47

2013 - The Verdi Year is being marked these days at the Vienna State Opera by a series of four performances of
Aida
, the first of which was scheduled for Thursday, 14
th
March. Although it was announced as a re-run, Nicolas Joel's staging has a new look and is a real event. Romanian bass Dan Paul Dumitrescu plays the role of Ramfis, alongside Olga Borodina (Amneris), Kristin Lewis (Aida), Jorge de Leon (Radames), Markus Marquarnt (Amonastro), Janusz Monarcha (the King), Jinxu Xiahou (the Messenger) and Elisabeta Marin (the Priestess).
In 2001 - the Verdi centenary, Dan Paul Dumitrescu was for the first time selected among the cast of the Aida performance directed by Nicolas Joel. At that time, he played the role of Ramfis, but he both played the High Priest and the King. In 2013, a new Verdi year, the Romanian bass returns as Ramfis in Nicolas Joel's performance, an established production with a new presentation.
Bass Dan Paul Dumitrescu gave us a short interview on this occasion.

Today we have the first of the four Aida performances presented by the Vienna State Opera - a production staged by Nicolas Joel long ago. It is a re-run, but a special event, nevertheless. What are the new elements it brings?
The new elements… the costumes, a new setting, the cast, certainly, and… everything, actually, even the lights; and the beautiful music written by Verdi, Aida - one of the most beautiful operas.

Your collaboration with Nicolas Joel started with the role of Ramphis in 2001.
Yes, it was a Verdi year, as well.

In 2008 you returned to the cast, but in the role of the king . Which of the two is closer to you?
Generally, basses play both roles in Aida. Both of them are equally beautiful and important.

Every new series brings about a new challenge. What would be the challenge that this series brings you?
Well, it is a pleasure to sing on the Viennese opera's stage, it is a pleasure to sing with their orchestra. There is always a challenge, especially because the cast is always changing, you don't always have the same soloists, you come across different problems, you get to know other conductors, and you always have to change something. The audience in Vienna is always hard to satisfy, they always want something new, and then… this is a real challenge.

How do you collaborate with conductor Pinchas Steinberg?
I think Pinchas Steinberg is very suitable for what we are doing tonight.

You agreed to give us a new interview at the end of the four performances. We are waiting for you to return to Radio Romania Music two weeks from now. Good luck!
Thank you.
Simona Dumitriu
Translated by Irina Borțoi and Elena Daniela Radu
MTTLC, Bucharest University