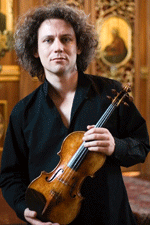 Violinist David Grimal, Soloist at the Athenaeum once again
Friday, 15 March 2013 , ora 10.06

A musical programme completely dedicated to the creation of French composers brought maestro
Christian Badea
at the head of the Philharmonic Orchestra of Bucharest on 14
th
and 15
th
March. Selected from Romanticism and Impressionism ages, the scores in the evening's programme went from the brilliant character of the
Roman Carnival
Overture by Hector Berlioz to the three descriptive symphonic sketches by Claude Debussy,
The Sea
. At the same time, the soloist was a French musician that our music lovers already know:
David Grimal
.
The concert at the Athenaeum featured, in the French violinist's interpretation, two works that, despite belonging to the same musical period, convey different messages through their style and their elements of artistic language - the famous Poem for Piano and Orchestra op. 25 by Ernest Chausson, charged with mysterious lyricism and Camille Saint-Saëns' Havanaise, passionate due to the rhythm reminding of Hispanic habaneras. David Grimal gave us a few details about the two works he presented during the evening.

David Grimal: 'I have played these songs quite often, especially this year in Japan and in France, and I was glad to have the chance to play them on a Romanian stage, as well. The two songs are a very interesting combination of French musical styles - Chausson's Poem is sad and romantic, whereas Saint-Saëns' Havanaise is brilliant and full of sweet sounds. They are two artistic aspects of the French soul. As for the performance, the different character of music means different tone colours, in fact the very subject of the two opposites is different: you don't have to think about it too much when you play them, but feel them, live them. They are not like German music, where structure is very important. Everything is based on common sense, feeling and sophistication.'

How did you collaborate with the Bucharest Philharmonic Orchestra and conductor Christian Badea?
D.G.: It was a very fruitful collaboration. This isn't the first time I've been in Romania, but it is the first time I've worked with conductor Christian Badea. I am very glad I had the opportunity to meet and to work with this maestro. How did the rehearsals go? From my point of view, easily, naturally, especially because I was allowed full freedom in my playing. Christian Badea is a very open-minded conductor, who gives solutions to the orchestra and counts on naturalness and simplicity. He is clear and efficient.
It seems a well-chosen musical programme, as well as the presence of a maestro of conducting and a charismatic soloist are the main ingredients of a successful music evening, and the strength of the applauses at the end of the concert at the Romanian Athenaeum proved once again the joy and honour which Bucharest audiences show conductor Christian Badea every time.
Alexandra Cebuc
Translated by Irina Borțoi and Elena Daniela Radu
MTTLC, Bucharest University