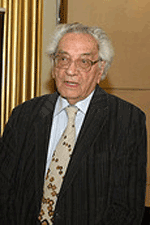 Viorel Cosma Celebrates his 90th Birthday
Friday, 29 March 2013 , ora 9.01

On 30
th
March, the musicologist
Viorel Cosma
celebrates his turning 90. We used this occasion as an opportunity to wish him 'Happy birthday!' and to get an interview. The maestro talks about this celebratory moment, his writings, but also about the recently-granted distinction - the
Saints Emperors Constantine and His Mother Helena Order for Laymen
of the Romanian Patriarchate for
his entire activity as professor, historiographer, lexicographer and musical critic.

Happy birthday, maestro Viorel Cosma! How do you feel about this beautiful celebration?
I'm glad to talk to you or, better said, talk to you again! - since I have been talking to you, the Radio people, for over 60 years. In front of me there's the cover of your magazine ten years ago - Radio Romania, the 30th March, 2003 issue, on my birthday. It was there where I expressed my credo and, although ten years have gone by since that moment and I have turned 90, everything that I said back then is still valid. I witnessed the most conflicting century in universal music. I feel happy that God helped me to reach the age of the patriarchs so as to be able to give the Romanian creation all that was most valuable in my thinking, every page of musicology, turning the bricks of the national sonorous edifice into a basalt column with organ echoes, that heightens the domestic art to the dimensions of the infinity tomorrow. This is the credo that, as far as I can see, is still valid and for which I keep fighting at this age.

Among your impressive research and volumes, which are the dearest to you?
Out of the more than 100 books and 5,000 studies and articles I have published, there are two directions and series of works that I cherish: first of all, the lexicons - the ten lexicons of creators, one of interpreters and two music encyclopedias and then, the series of 19 volumes dedicated to George Enescu.

You have been awarded, on 28th March, the Saints Emperors Constantine and His Mother Helena Order for Laymen of the Romanian Patriarchate for your entire activity. What is the significance of this distinction?
It has, without a doubt, a very special significance, as I'm the grandson of a priest - my grandfather was the priest Ioniță Cosma, the archbishop of Bârlad, and my great-grandfather was Damian Rânzescu, the vicar choral of the Metropolitan Church in Bucharest. So, my roots are intertwined with the Church, I have written a lot on Church servants who dealt with music and now I continue - especially starting with the tenth volume of my lexicon - to add all the priests that the communists erased from the index of names. Bringing them back to us means bringing Romanian music from 1450 to modern times.
Andreea Chiselev
Translated by Mihaela Olinescu and Elena Daniela Radu
MTTLC, Bucharest University