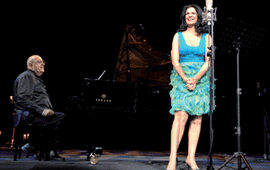 Maestros, Music and Other Trifles...
Monday, 8 April 2013 , ora 9.12

... gathered an impressive audience on Saturday, 6
th
April, 2013, at the Romanian Athenaeum, at a gala dedicated to maestro Dan Grigore and his friends: Medeea Marinescu, Victor Rebengiuc, Ion Caramitru, Andrei Vieru and Mihai Brâncoveanu. Soprano Angela Gheorghiu made a special appearance at the gala hosted by Marina Constantinescu.
The concert was a real performance which blended music, poetry and feisty remarks in a charming way. It was a special evening, not just because we had the chance to listen to Dan Grigore perform wonderful piano scores, not just because we were touched by Victor Rebengiuc reciting Ioan Alexandru's 'Lumina neapropiată', not just because we saw the talented guests perform, but also because we witnessed the strong connection that has been established between them for years. It was a lesson about friendship, about how it can last decades, about wonderful events that bring people close, all of these in an age when such relationships seem to fall apart much more easily. We asked maestro Dan Grigore about the foundation of the friendship he had with the other guests of the gala and about how it had lasted through time:
'First of all, these are artists' friendships, based on admiration - and that is the first step to spiritual love. I am bound to these people by old admiration - of the senior; by new and fresh admiration of the younger, but it is a very deep and strong feeling, such as the one I have for Angela Gheorghiu. I am bound to others by the fact that I was their professor, and this is an extra connection, it is, perhaps, a more secret one. But, as a great writer used to say, "God showed me love through the friends He has given me." I can say it is a gift from God when people of different ages, different artistic genres and different vocations come together - Mihai Brâncoveanu is a man of impressive culture and who loves music, but he is a mathematician by training! And we are bound by something that lies in each of us, which goes from one to the other and passes through us… A thread, several threads… it is something that has to do with love, with God, with the pleasure to make music together, to read, to talk about poetry, about life, about life experiences, about spiritual adventures and… that is enough.'
In other words, the key to an endless friendship lies in the depth of the values we share, which is telling, I would say. Out conversation with Dan Grigore continued though:

You said something that touched me. You said that music was an instance of the Divinity. When did you have this epiphany?
I had this epiphany very early in my life, I must have been about five years old, when I went to the Black Church in Brasov and listened to the organ. After that I went home, in Bucharest, sat at the piano and composed a song called The Organ - to release some of that emotion. And then I remember that, when I was a student at the Conservatory, I would skip classes evenings on end to go to the St Joseph Cathedral, where the pastor was a friend of mine. He let me play the organ about three quarters of an hour and I was alone in the cathedral and played the organ - improvising or playing Bach, or various things… This used to happen two or three times a week at least, until one day, someone at the Party found out and told me "Be careful or we might kick you out if things continue like this." Then I went to the cathedral less often and then I stopped going altogether, fearing the consequences, but anyway, this epiphany, this pleasure to make music was instilled in me that way - with this musical instance that is the organ and which is a musical cathedral in its own way."
Angela Gheorghiu is often a guest at the events dedicated to Dan Grigore. The programme seemed to be coming to an end and I think many of us were wondering when the famous soprano would come on stage. She emerged during the last phrases of Sergei Rachmaninoff's Vocalise which Dan Grigore was playing. And then she delighted us with two more lieds by the Russian composer, only to end with Francis Poulenc's Les Chemins de l'Amour. It was a brilliant end to an equally lovely evening, on Saturday at the Romanian Athenaeum.
Petra Gherasim
Translated by Irina Borțoi and Elena Daniela Radu
MTTLC, Bucharest University