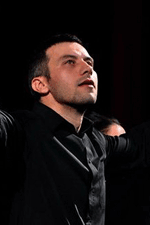 Conductor Tiberiu Soare and The National Radio Orchestra in Balchik
Thursday, 25 July 2013 , ora 10.42

The National Radio Orchestra and conductor Tiberiu Soare will perform in a concert held at the Balchik Classic Days festival, on the 29th July, 2009. This is the perfect opportunity to talk with the conductor about the famous National Radio Orchestra's new show abroad.

Tell me, please, how important is this festival in Balchik?
This is the first time that the National Radio Orchestra has been invited to this festival, so I am not sure how important this event is. However, it seems to be a major one since we were asked to include musical pieces from the Classical Period in our programme. Obviously, we assembled a chamber formula because the National Radio Orchestra was invited to this festival in Balcic and we decided that the perfect choice would be Mozart.

Where exactly in Balcic will this event take place?
This is another thing which I am not entirely sure about, but we will find out as soon as we arrive there. All we know is that it is an open-air stage, not far away from the seashore.

You mentioned a classical programme. What works more precisely?
As I have said, the whole programme revolves around Wolfgang Amadeus Mozart. Furthermore, the entire programme is in A Major so all the works are likewise: the Violin and Orchestra Concerto No. 5, with Gabriel Croitoru as soloist, the Piano and Orchestra Concerto No. 12 in Horia Mihail's interpretation and Symphony No. 29.

What future plans do you have for yourself and for the National Radio Orchestra?
Our main concern in the near future is to get the National Radio Orchestra to perform at the George Enescu International Festival. There, under the baton of conductor James Judd, the National Radio Orchestra will play a referential work from the 20th century's repertoire, that is Benjamin Britten's War Requiem. It is a monumental musical piece and it is an honour for any orchestra to play it. More exactly, we are not talking only about the National Radio Orchestra, but also about the Radio Chamber Orchestra, the Academic Radio Choir, led by Dan Mihai Goia and the Romanian Radio Children's Choir led by Voicu Popescu.

Then, how many musicians will be on stage?
We will spare no radio music groups who play symphony music at this edition of the George Enescu International Festival. I could not tell you precisely the number, but I think there will be more than 100 musicians.
Ioana Goia
Translated by Morosanu Petronela and Elena Daniela Radu
MTTLC, The University of Bucharest