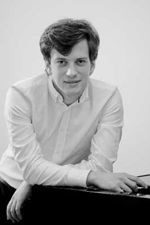 Interview with Pianist Mihai Ritivoiu
Wednesday, 2 October 2013 , ora 9.27

Pianist Mihai Ritivoiu, winner of the 'Dinu Lipatti' National Competition in 2010 and of the 'George Enescu' International Competition in 2011, currently an MA student at Guildhall School of Music and Drama in London, in pianist Joan Havill's class, gave a recital on 27
th
September, 2013, as part of the most well-known series of concerts held at the famous church, 'St Martin in the Fields'. Mihai Ritivoiu spoke to us about this recital and the several projects he has in England:

You have a tight schedule these days with recitals and concerts on important stages in England. You have recently given a recital at 'St Martin in the Fields', which is, undoubtedly, a remarkable achievement. What was this experience like for you?
It was a rather unexpected invitation from the Romanian Cultural Institute, not long before the recital, but it was an extraordinary experience. It's a place loaded with history and with greact acoustics and a wonderful piano. I was also lucky enough to have a large, enthusiastic audience so it was a great pleasure for me to play there and I'm very glad to have received the invitation. I started with a sonata by Scarlatti in A major, I included a piece by Enescu - Pavana from the Suite op. 10 - which was very much appreciated and I had the same reactions as any other times when I included Enescu's compositions in my recitals; there were people who said how much they had enjoyed it.

Your chamber music activity was enriched in England, with the Heron Quartet. Would you tell us about this ensemble, how long have you been playing with them and what have your performances been so far?
I started working with this ensemble a year ago, when I actually came to London. They had another pianist before, who left for Singapore, and I replaced her at first and then we got along very well so we kept working together. We added new compositions to our repertoire; Fauré's Quartet in C minor, then Mozart's two quartets for piano and now we have this very interesting quartet by Walton. Certainly, we've had all sorts of recitals, but I'd say the most important one so far is the one we gave yesterday at the Bishopsgate Institute, where we played Mozart's Quartet in G minor and Walton's quartet.

Your next performance will be on Saturday, 5thOctober, with the Cambridge Symphonic Orchestra and conductor Howard Williams. Is this your first collaboration with these musicians?
Yes, it is my first collaboration and it is, in fact, the first one as a soloist with an orchestra in England. This evening we have the first rehearsal and I can't wait to meet the conductor and to work with this orchestra.

What composition will you play?
Richard Strauss's Burleske in D minor for piano and orchestra - a very interesting composition that has not been performed, yet and which I will play for the first time. I was glad to discover how complex and interesting it is. It is, of course, difficult in interesting ways both for the soloist and for the orchestra.

How difficult is it to deal with such a tight schedule?
It is difficult, certainly, but it is also pleasant. Everything has to do with good organising skills and then nothing is unattainable.

You are already a second year MA student at Guildhall School of Music & Drama in London. What are your plans for this year?
I have a lot of plans, of course, and they usually take shape along the way. In the near future, for instance, I will play as part of a masterclass by Emanuel Ax at the Guildhall School next week. There are, of course, a few competitions I would like to take part in this year, too. I'm still choosing them wisely, according to their repertoire requirements. It is a complicated process, there are a lot of competitions in the world and looking for them and choosing where to participate is becoming a rather complex process.
Interview by: Larisa Clempuș
Translated by Irina Borțoi and Elena Daniela Radu
MTTLC, The University of Bucharest