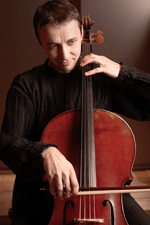 Răzvan Suma - On the 'Do You Like Brahms?' Tour
Tuesday, 29 October 2013 , ora 12.23

The series of music events celebrating 85 years from the first Radio Romania broadcast (the anniversary is on 1
st
November, 2013) continues on the evening of 29
th
October. After having visited, starting with 8
th
October, 12 cities all over the country, the cellist Răzvan Suma and the Spanish pianist JosuOkinena close the 'Do You Like Brahms?' Tour at the Radio Hall. The two artists will perform
Cello Sonata No. 1 in E Minor, Op. 38
and
Cello Sonata No. 2 in F Major, Op. 99
, works which belong to the German composer's creation. The cellist
Răzvan Suma
granted us an interview, talking about how the 'Do You Like Brahms?' Tour went and about the final recital, which he will give at the Radio Hall.

Today, at the Radio Hall, you will bring to an end the 'Do You Like Brahms?' Tour, a tour which you started together with the pianist Josu Okinena on 8th October. How was this edition for you and what was the reaction of the audience?
It was a very beautiful edition, since Josu and I celebrate ten years of collaboration in 2013 and this was precisely the idea of the tour. I thought that a decade of continuous collaboration - 15-20 concerts a year on average - deserves a celebration with a very concentrated tour; and then, there are these 13 concerts that we almost finished. We remembered what happened after the first concert, what our impressions were…as if it had been at least three years since that moment, and actually, it's only 20 days. So it was really, really intense!

Last year it was Bach, this year - Brahms. What made you think of offering the audience the two sonatas for cello and piano by Brahms?
Firstly, we have to adapt to the abilities of the cello and, from the point of view of the repertoire, Brahms is one of the best choices. And it's not only about the cello, but about the audience, too. Everybody loves Brahms; he is a composer who packs up the halls and so, it's a very good idea.

The 'Do You Like Brahms?' Tour will close today at the Radio Hall, with a special recital. What is, for you, the significance of taking part in the series of events celebrating the 85th anniversary of Radio Romania?
It is amazing! For me, radio means home. It's the fourth year when I am a concert soloist of the Radio Orchestras and Choirs. During this period I have met a lot of people - whether from orchestras, choirs or editorial offices - and we have a very good collaboration. I just love it! I'm really very glad to be part of this series of concerts. Besides this, I'll also give a Beethoven concert on Thursday, together with Horia Mihail and Gabriel Croitoru. I enjoy my activity at the Radio.
Larisa Clempuș
Translated by Mihaela Olinescu and Elena Daniela Radu
MTTLC, The University of Bucharest