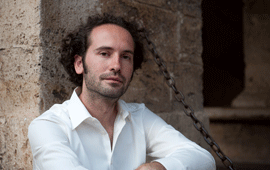 Interview with Răsvan Popovici - SoNoRo
Monday, 4 November 2013 , ora 9.32

The
SoNoRo
International Festival of Chamber Music started on 1
st
November, 2013. Răsvan Popovici tells us about the new things this eighth edition brings us.

Mr Răsvan Popovici, here we are, for the eighth edition of the SoNoRo Festival. What does this edition mean to you and what are its reference points ?
Personally, I am very happy to have put up a new SoNoRo; this joy it brings is obviously related to a lot of things and a lot of work, but now we have managed to reach our objective, which is very good in the present context. There will be many concerts – our SoNoRo adventure starts, traditionally, in Bucharest at Cotroceni Palace, the Union Hall, followed by a 12-evening route. Then we leave for Cluj, where we have four concerts and after that, we extend a bit and perform in Iași for the first time, where there will be two concerts. I am extremely happy about our venue in Iași, the newly restaured Vasile Alecsandri Theatre, which is a great opportunity for SoNoRo.

A few reference points regarding the repertoire and guests...
As usual, the repertoire is very diverse. This year, it is related entirely to the theme of the festival, UP – as our slogan said, "a high edition". After Love Unlimited, we were thinking of moving a little forward, towards the 10th edition...it's a good thing. We will play different pieces, from Brahms to Dvorak, Mozart, Enescu, Bartok, Kodaly and many pieces from the chamber music repertoire, combined with pieces by Olivier Messiaen, George Crumb. For instance, I am very glad about the Engegard Quartet from Oslo, who will perform George Crumb's famous piece, Black Angels. This is the reason why the concert at Bragadiru Palace is called Golden Birds&Black Angels. The programme is mixed – Crumb and Leonid Desyatnikov (one of Gidon Kremer's favourite composers), combined with Casals, a well-known composition from the Catalan folklore, The Song of the Birds, together with a Boccherini Quintet, L'uccelliera (The Birdman).

A lot of young people take part in this edition.
As always, I chose to invite the creme de la creme among Europe's musical youth. In my opinion, it is not justifiable that we should invite extremely famous artists, as it would take much of our resources and it isn't always a good idea, in my opinion as cultural manager. We have Maxim Rysanov, the extraordinary violist from London, the Engegard Quartet – whom I have already mentioned – the French-American cellist Sonia Wieder-Atherton and her ensemble from Paris, the Niguna Ensemble. As new SoNoRo cellists, we'll have Alissa Margulis and Kirill Troussov, also Monika Leskovar, Adrian Brendel and Marcin Sieniawski on the cello and the list could go on; I believe we have very special guests performing this year.

Thank you very much and good luck!
Irina Hasnaș
Translated by Anca Gheorghiu and Elena Daniela Radu
MTTLC, The University of Bucharest