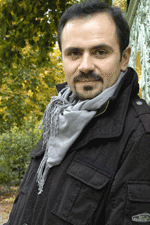 An Interview with the Tenor Marius Brenciu
Monday, 11 November 2013 , ora 12.38

On 11
th
November, 2013, the tenor
Marius Brenciu
turns 40 – an age of fulfillment for one of the most well-known Romanian contemporary artists with a rich international career. Marius Brenciu was the guest of the program
Musica viva
, with an Interview of the Day conducted by Irina Hasnaș.

A warm 'Happy birthday!' And this greeting is accompanied by a huge bunch of flowers, expressing our best wishes for you. This must be a special moment in your life!
Thank you.

During this season and, in fact, during the last few years, your career has entered a new path. Which are the moments most dear to you during this period?
Without a doubt, I would choose the debut on certain stages, at certain operas and returning there, because a debut on a great stage has a special significance for an artist and being invited again at the same opera is, of course, a confirmation; then, the collaboration with great, important artists who automatically raise your level when you work with them. Honestly, I think of the Vienna State Opera and of the Metropolitan; these are the first that come to mind, as I felt really comfortable there and I worked with great artists: Claudio Abbado, Seiji Ozawa, Ion Marin, Valery Gergiev…I think the list would be extremely long if I had to mention all of them. The partners I had on the stages of the world were also very important. Performing next to Angela Gheorghiu, Renato Brusson, Susan Graham and many, many others certainly had a huge significance and the collaboration with such artists gives you the energy to go on, hoping to meet again.

Do you have a dream, Mr. Marius Brenciu?
An artist – and it might be selfish of him – thinks, first of all, of debuts or new roles. This means not one dream, but many dreams…However, personally, because at a certain point I had a health problem with a treatment that lasted more than a year, the first thing I wish for is health.

And after that?
After that, I would like some fine, warm weather, because I can't stand the cold anymore – I don't know if it's the age or other reason…and, when it comes to work, I wish for harmony, as we also must tell the other side of the story: there are many operas in the world, even great ones, where a collaboration might become extremely strained, because of the climate created by a partner, a director, a conductor or because there are productions that you don't enjoy, even if they are promoted a lot and take place in a great opera.

What are you working on these days?
We are currently discussing with the organizers of the 'Reine Elisabeth' Music Competition, as after the edition when I was a competitor, I also participated as a member of the artistic commission or of the jury which selected the candidates. So, we are working to this purpose, since the registrations for the competition next year take place during this period. This is, perhaps, a more administrative, pedagogical activity. As for the rest, there are certain debuts I am planning and hoping to see become reality, but maybe we'll talk about this some other time.

Once again, Mr. Marius Brenciu, please receive our congratulations and best wishes. May all your projects and dreams come true!
Thank you very much and I wish your listeners all the best.
Irina Hasnaș
Translated by Mihaela Olinescu and Elena Daniela Radu
MTTLC, The University of Bucharest