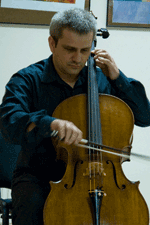 An Interview with the Cellist Kostyák Előd
Thursday, 14 November 2013 , ora 10.26

At Cluj-Napoca, the building of the Casino in the park Central is hosting between 5
th
-14
th
November, 2013 the third edition of the International Festival of Chamber Music
deCameron.
The organizer of this project is the cellist Kostyák Előd who granted us an interview.

This evening marks the end of the third edition of the International Festival deCAMERon. Which were the benchmarks of this edition when it comes to the repertoire and the guests?
Starting with this year, we organized the deCAMERon Festival at the Casino in the park Central; it's a very beautiful house, renovated by the Cluj City Hall. Besides this festival, we want to start there a season of chamber music, with at least a concert a month. The protagonists of the deCAMERon Festival are well-known both internationally and locally, because some of them are from Cluj, but they live in the Western world and they returned to Cluj for some very beautiful concerts. So, our guests came from Switzerland, Hungary, Germany and even Austria. Among the most resounding names is that of the maestro Horia Mihail; he gave a chamber music concert, together with me, on the 11th. The concert closing the festival will be signed by Janos Selmeczi, violin, Hungary, Rohmann Imre, piano, Austria (a docent of the Salzburg Mozarteum) and Perényi Miklós from Hungary, so it will be a concert of a trio; and tomorrow the concert of the Philharmonic will take place and they will interpret a trio by Beethoven.

Did you enjoy the participation of the Cluj audience, used to such important events?
We were very lucky to have this wonderful audience of Cluj. They are really interested in chamber music, gave us their full attention and every concert was sold out. That makes us enjoy planning the next edition. We would like this festival to become a tradition, since we want it to take place every year, during the same period: between 5th-14th November. The reason is that at the heart of this festival stands the concert honouring the memory of Marton Szoverdi. He was the legendary first oboist of the Philharmonic for decades and 10th November is the date when he passed away. We practically built the festival around this day.
Irina Hasnaş
Translated by Mihaela Olinescu and Elena Daniela Radu
MTTLC, The University of Bucharest