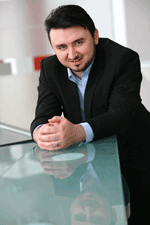 Interview with the Baritone Yuriy Tsiple
Monday, 2 December 2013 , ora 9.29

With a career in full ascent, the 29-year-old baritone
Yuriy Tsiple
already has an impressive number of achievements and many appearances on the stages of the Frankfurt Opera House, the Opera National du Rhin in Strassburg and the Zürich Opera House where he has been performing as a soloist since the 2012-2013 season. On 23
rd
November, 2013, the Zürich Opera House hosted the global premiere of
Marius Felix Lange's
children's opera
The Canterville Ghost
in which Yuriy Tsiple was cast in the leading role. In the following lines, the young artist talked to us about this performance in particular which has been praised in eulogistic terms by the Swiss press:
The Canterville Ghost, an adaptation of Oscar Wilde's short story, is no longer a mere narrative but has been transformed into a full-fledged opera. It was written by Marius Felix Lange, a contemporary German composer who is certain to become a house-hold name thanks to this opera and all the other successful pieces that he has composed for other opera houses. We have known each other personally for some time now; he even attended one of my performances at a lied concert last year in Berlin. At the time, he was composing for the opera and was happy to have had the chance to listen to some talented soloists. In my case, he listened to me perform as the lead singer. I wish that all of Marius's pieces be as successful as The Canterville Ghost was on the 23rd November in Zürich. The audience reacted to his play in the same manner that they would have to a famous opera by Verdi or Puccini. To us on stage, and by us I mean the stage director, the composer and the writer, their reaction was obvious and we were not the only ones to notice it. The fact that some journalists wrote that it was almost on the same level as The Flying Dutchman confirms how valuable the entire piece really is. And if one were to look at the long orchestration part and the pieces composed for the soloists, they would agree with the journalists. In my mind, nothing from my previous experience in performing this kind of opera in Strassburg or Paris could be compared to The Canterville Ghost. In support of this idea, I've noticed that the audience didn't consist only of children accompanied by their parents, as it usually does in the case of these pieces, but also many adults. Even at the premiere that sold out, there were many adult people in the audience which is understandable because the music is so well-written, imaginative and with so many nuances. It is absolutely splendid!

You were the lead singer of The Canterville Ghost. Could you talk to us a little about the production, the staging, the other performers, and the conductor?
It's been marvelous! Something that I've told many of my friends is that even though I'm still young and at the beginning of my career, I will always think of this role as my most difficult because it required creativity and was part of a global premiere. The production put together two casts for the opera, with no difference between them as I can assure you that all my colleagues are well-prepared and creative. Stage director of the opera was a young woman from Bosnia and Herzegovina and I must say it was a pleasure working with her. In the past, I had worked with many famous stage directors such as Calixto Bieito and Robert Carson, but Miss Jasmina Haziazmetovich showed me how important and well-trained the new generation is. I have to change my outfit twice in fifty seconds, and not just take off the jacket; I have a full change of wardrobe. Part of my role as the ghost is to fly and give the audience the impression that I am headless! I don't know many artists who would agree to this or even be able to sing such high notes or phrases of bel canto, while flying at fifteen meters above the ground. I felt as though I was in a movie and according to many of my friends nothing could stop me now from playing in a film or taking on a more difficult opera role. The part of the 450-year-old ghost is so complex and dramatic because in the beginning he wants to scare everyone in the castle and make them obey his command but ends up frustrated by the fact that no one is actually afraid of him and dies. It is a well-built role but apart from the leading role, all the other singers have to be able to correctly pronounce and highlight the different tones and nuances of the text.

What will you do after the premiere? Will there be more performances in December? What other project are you working on?
There will be many more performances in which both casts will take part in. My next and second show will actually be on Sunday, 1st December and after that I will come to Romania where I have a surprise in store for you. I'll be in Romania during the spring of 2014 after which I will return to Zürich where I will be performing Roucher, a beautiful role by Andrea Chenier. I will have a duet with Chenier herself under the baton of conductor Wallace, a wonderful aria under the baton of my good friend, maestro Marco Armiliato and it will all be directed by the talented stage director, maestro Barry Kosky, the opera director of the Komische Oper Berlin. I am happy to be participating in so many projects this season because it's the most interesting way for one to improve.

Thank you very much Mr. Yuriy Tsiple and I wish you the best of luck! We will certainly be hearing more about your wonderful performances.
Likewise and I'm looking forward to seeing you again in Romania.
Jeanine Costache
Translated by Constantinidis Silvia-Ecaterina and Elena Daniela Radu
MTTLC, The University of Bucharest