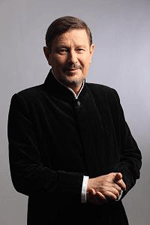 Interview with Conductor Voicu Popescu
Monday, 16 December 2013 , ora 13.02

In December, the Madrigal Chamber Choir organizes a concert tour, which represents a beautiful Christmas gift. This evening, the choir, together with 300 children, will be singing for the public at the Romanian Parliament.
Conductor Voicu Popescu kindly offered us an exclusive interview.

Mr. Voicu Popescu, every year, the Madrigal Chamber Choir pleases all the listeners. In fact, it is a gift which you offer to the Romanian public, by means of a tour. Can you tell us a few words about this tour?
As you said, every year in December, the MADRIGAL Choir shares its reach tradition with the public, especially Christmas carols. Since its foundation, Madrigal Choir has firstly assumed the responsability of giving back the traditional carols to the Romanian public, when nobody else seemed to have this courage; therefore, a reflex was created, for the Madrigal to present to the public, every year, a repertoire of carols, which, in a way, is a fixed repertoire, but at the same time is renewed from one year to another.
This is what the Madrigal Choir has been doing for the last two years; it gives concerts both here, in Bucharest, and in the country. We have recently returned from Focșani and Iași and now we are preparing for the performances in Sfîntul Gheorghe and Brașov. These are different areas, the public may be a little different as well, but the joy of listening to Romanian carols is the same. The ending or the peak of this tour is surely represented by the concert which will take place on 15th December, or we'd better say, the two concerts, because, from listeners' requests, we are going to give a repeat performance. This means that there will be another concert at 16:00, also at the Romanian Athenaeum; and there it is, a full agenda, which won' t stop here: there will be another two artistic events. The first one will take place, at the Romanian Parliament on 16th December, where, apart from the Madrigal Choir, a large number of children, over 300, will sing, as part of the project called "Cantus Mundi"; of course, the repertoire will comprise Christmas carols as well, this being a very important part. After that, on 18th December, at the Patriarchate, we will be singing for the public that could no t purchase tickets for the Athenaeum concerts; we hope that it will be a spiritual meeting with those who could not listen to us so far .

Mr. Voicu Popescu, we thank you and we wish you success in accomplishing your aim of sharing this gift with all Romanian music lovers, and not only.
Irina Hasnaș
Translated by Aida Birghilă and Elena Daniela Radu