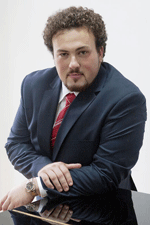 An Interview with the Tenor Ștefan Pop
Tuesday, 17 December 2013 , ora 10.10

The tenor Ștefan Pop graduated from Gheorghe Dima Music Academy of Cluj Napoca. Since 2007, he has been winning national and international awards. In 2010, he was the prizeman of Operalia, the World Opera Competition, founded by Placido Domingo. The prize represented a milestone for his international career and from that moment on, he became the guest of some very important lyric theaters in the world.

Welcome back to Romania! Ștefan Pop, this time you're here to perform in a part that you are very fond of, I assume, a score written by Charles Gounod. Share some of your thoughts with us. You have already attended a few rehearsals. What do you think about your colleagues, about the staging and about the collaboration with your friends here, in Romania?
I'll be making my debut with Faust. It's the first French opus in which I have ever performed. It is somehow a more complex part, since I'm an old man in the first scene, but after that I'm my young self again, the one you are all used to from the other works. It is an honour for me to make my debut with Faust, directed by the great stage director, Alexandru Tocilescu. This performance is for him and from my point of view, it is an excellent one. We had the dress rehearsal the other day and I watched the entire show from the stage, when it wasn't my turn to perform; it all looks really, really good - I can't wait to see the audience reaction. What bothers me a little is that the performance is a very long one. Until now, I was used to the Elixir, which was extremely difficult to interpret, since I had to be on stage for two hours; now I have to wait for four hours for my turn to perform, which is almost as difficult. There are long intervals when I'm not even on the stage and that makes it harder for me have the same energy every time I return. But I love French Music. I never thought it would suit me so well and it would make me feel so good while performing.

Is this your first French opus?
Yes, it is my first and I hope that from now on, I'll get more accustomed to it. It was a bit difficult for me in the beginning, but I'm starting to like it.

After this sojourn and debut in Bucharest, what are your next projects? Are any of them planned for 2014?
Regarding the holidays, I'll be finally spending an orthodox Christmas at home, with my family, which I've been missing for some time now. But in January, I'll be starting the New Year in Hamburg, with Rigoletto and after that, I'll make my debut at Monte Carlo, with 'L'elisir d'amore'. I'll probably also go to Tel Aviv to perform in La Traviata, with the great conductor Zubin Mehta. Accompanied by Tatiana again, I'll also be travelling to Hong Kong, to perform in Faust, which is also a first for me. I'll make my debut with La Bohème, at Salle Pleyel, in Paris in June and in Salzburg in August, with Der Rosenkavalier.

Mr. Ștefan Pop, have you ever considered recording?
I did think about it a lot and frankly, I cannot wait for it to happen. As I understand from my managers, a production company will probably be present in Paris, so all I can do is hope and wait. It is something that I really want career-wise and I hope it will happen soon enough.
Irina Hasnaș
Translated by Zbarcea Bianca-Lidia and Elena Daniela Radu
MTTLC, The University of Bucharest