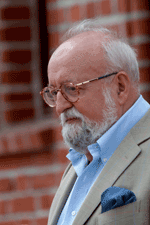 Happy Birthday, Dear Master Krzysztof Penderecki!
Wednesday, 18 December 2013 , ora 10.39

This year, the Polish composer and conductor Krzysztof Penderecki, has turned 80. He is considered the greatest composer alive, according to "The Guardian". His creation includes four operas, eight symphonies, orchestral pieces, choral pieces on laic and religious texts, as well as many other chamber pieces. He is a remarkable personality of the international music life, who has collaborated with many famous artists over the years. His works are successfully performed all over the world.

Mr. Penderecki, thank you for giving us this interview. Being a composer at the beginning of the 21st century is not the easiest thing, but you have a strong and stubborn personality on the artistic path you have chosen. How would you define yourself as a composer, in a world dominated by contrasting currents?
I have been composing since I was seven, and for me everything has continuity. There are no breaks or discontinuities between 20th and 21st centuries. I have always completed my work. I make plans for the next period of time and now I have projects for the next 10 or 15 years. Then, I'll see. I hope I'll have the strength to accomplish them and to continue my work, I don't know for how long.

You started in the 60s, as a revolutionary, rebel creator. Right from the beginning you have tried to define your musical language in an interesting manner. How was that beginning, when you opposed everything?
That was the youth. When I was young, I was a rebel; I was against the music written by my older colleagues. I was trying to find my own idiom, my musical idiom. After I graduated I began writing my own music, which was different. I was working in an electronic music studio in Warsaw. This inspired me a lot, because in that studio I heard pieces of music which I had never heard before, and I tried to transcribe all these new sounds for different instruments. I experimented with human voices and strings. As a result, I wrote Threnody, for the victims of Hiroshima, Polymorfia. In the 60s, I composed over 20 pieces and other opuses in the electronic music studio. Those were the years in which I was against all musical currents, even against my professors. I wanted to be independent, to write a completely new music that would be only mine.

Mr. Krzysztof Penderecki, along your career, a single instrument has followed you closely: the human voice. What does the human voice mean to you?
For me, the human voice is the most fascinating musical instrument. During my career as a composer, I believe that I have not approached human voice enough. There is always a desire to continue. The first vocal piece dates back to 1957, to David's Psalms, then Stabat Mater, Saint Joan's Passions, the Morning Prayers, the Polish Requiem, and these are only a few of them. The last important piece I think is Misa Brevis, which I composed for the 800th anniversary of the Fire at Saint Toma's Cathedral in Leipzig; it is for A Capella Choir, male voices.

Mr. Penderecki, in your career, you have had the opportunity to becomefamiliar with all musical currents of the second half of the 20th century. Which one of those creators has mostly inspired you?
At the beginning, in the field of electronic music, I was inspired by Karlheinz Stockhausen, and his Song of the Youth, a very important work. Then by the young Pierre Boulez, and the music he wrote in the 50s and 60s. But you should know that I have found my own language since I was very young. I would also like to mention Luigi Nono, whom I met in Cracow in 1975, where he brought some scores of his own. Il Canto Sospenso has influenced me a lot, too. The music I have written influences other composers, as well, especially my young colleagues.

Mr. Penderecki, this year you celebrated all over the world, but where did you feel better? Where was your music best appreciated?
There have been lots of concerts, lots of festivals, where my opuses were appreciated. I composed many chamber opuses, to which I am very attached. Chamber music is the one I love the most. I write more and more chamber works. My pieces have been performed all over the world this year: in the Malbourough Music Festival in the USA, in one of the most important festivals in Finland, in Poland and Germany, but I believe the most important festival was in Warsaw, organized by my wife. It was a very large one, in which 51 or 52 pieces were performed only in one week, with 19 conductors and 50 soloists. This was the biggest and the most important festival dedicated to my music which took place this year.

In 2013, the European Krzysztof Penderecki Centre for Music was created. What are its objectives?
This has been my dream form the last 20 years, to do something for the young talented musicians. The aim of the association is to build a concert hall and facilities for a musical academy. It is called a centre, but it is actually an academy. Then, we received money from the European Union and 15 % from The Ministry of Culture, in a very short time. The centre was built in two years. It is located in the countryside, near my house. The centre has a concert hall, with excellent acoustics, it is almost 300 meters long, and has several study rooms and a restaurant for the students. It can host up to 95 students at the same time. We began to gather talented youngsters, to create programmes for the conductors and instrumentalists . We opened the centre in May, with a concert performed by a children's orchestra, with ages between 7 and 14. They were amazing. I wanted to open the centre with children, as a symbol, because they truly needed help. We now have an orchestra that we will hold on. My dream has finally come true.

Mr. Penderecki, when you do not compose, conduct, teach, or travel, what do you do?
I have to admit, I travel most of the time, I compose all day long, but my hobby is my forest. I created it, I planted thousands of trees, probably 1700 species. It is the most important tree collection in Eastern Europe. It represents my passion. If I had not been a composer, I would certainly be a gardener, or a horticulturist.

Did this passion of yours for trees and nature influence you in your creation?
Directly. My forest is like an open, unfinished symphony. I started it 40 years ago, and I have not completed it, yet, because I extended my park and I now have lots of trees, and therefore, many things to do this year. This is not a hobby for one season, but for the whole life.

In the end, Mr Krzysztof Penderecki, would you like to share with us some of your future projects?
I am currently writing a concert for harp and small orchestra. I signed for a concert in Vienna, for composing my future opera, Fedra by Racine. I have to compose many chamber pieces for next year. I wish to create quartet no.4. I have just finished a piece for solo violin, which Anne Sophie Mutter will perform in New York on 14th December. After I finish Fedra, I would like to compose another one. I would also like to end my cycle of symphonies. I have written eight, but six of them are unfinished and I have to complete them and create another one, the ninth. And I think it will be enough. I have plans for the next 15 years and I hope I will be healthy enough to accomplish them.
Irina Hasnaș
Translated by Aida Birghilă and Elena Daniela Radu
MTTLC, The University of Bucharest