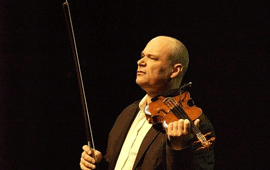 Interview with Violinist and Composer Alexandru Bălănescu
Thursday, 19 December 2013 , ora 10.48

A well-known figure in Britain, Europe and North America, violinist Alexandru Bălănescu has blended classical and modern to perfect his artistic career. On the evening of 20th December he will give a recital entitled 'Maria Ta' at the Romanian Cultural Center in New York. Why 'Maria T'? - it is a tribute given by the Romanian musician to the one who managed to reveal the essence of Romanian spirituality on great stages of the world, during her very short life.

Alexandru Bălănescu, on 20th December you will be at the Romanian Cultural Institute in New York to present a project very dear to you to the audience over there.
Yes, I am very glad we have this opportunity, to present our project inspired by Maria Tănase, within the celebration of this extraordinary Romanian artist.

It is a novel project, now that we are celebrating 100 years since the birth of Maria Tănase, who seduced the world with her music. What does the project you will present at the New York Cultural Center consist of?
I have studied what Maria Tănase left behind, her documents, recordings, and her life, which was very interesting, and I created compositions inspired by certain songs. I have had different manners to work with the material, sometimes inspired by the lyrics, sometimes melodic or rhythmic pieces, and then I had the idea, perhaps a bit crazy, to sort of meet Maria Tănase and her musicians, with the help of technology. So, sometimes, in certain parts of the show, we really are playing with Maria Tănase and her musicians. There was a chance at one point, while I was recording a tape, I had a bit of free time in the studio and I wanted to try to play with my quartet, with the recording of 'World, World', one of the songs I love and which somehow encapsulates the Romanian way of thinking in a way, our existentialist philosophy. It's a wonderful song and somehow this idea has worked from the very beginning and it gave me the courage to keep working on this project. I have been preparing it for a long time, almost five years, and I have made enough material for a record, which I called 'Maria T' and I felt we somehow needed to bring the spirit, the presence of Maria Tănase on stage with us. I talked to a good friend of mine, Klaus Obermaier, a great Vienna-based visual artist. I wanted to see if he was interested in the project and he became very passionate. He has worked with the images just like I have worked with the music. I've searched the archives in Buftea for films of Maria Tănase and of Bucharest between the 30s and the 50s, because I felt the city is an important character in the project, and Klaus transformed these images with great creativity, going from the abstract to the concrete and the other way round. Klaus was very inspired by what he saw, for instance, at the Peasant Museum in Bucharest, all those treasures in there, the clothes and the woodwork, and everything just fell into place. I think it's becoming very common these days to use visuals in concerts, but it's not very common for music to go so well with the images, and I believe our project can't have one without the other.

It is, indeed, a very daring project, like many others during your career. But do you think you could ever present Maria T in Bucharest?
Yes, we are preparing a tour in the spring, in the whole country. At the end of summer we played at the Balkan Festival, but it was a special audience, a young one, that is. I would like to present it to a larger audience. I think what is characteristic of the audience of the Bălănescu Quartet's audience is that we can communicate with people of all ages, not just the young people.

Thank you and good luck, and we'll be waiting for you in the spring, so that we can be part of this daring idea.
Thank you very much.
Irina Hasnaș
Translated by Irina Borțoi and Elena Daniela Radu
MTTLC, The University of Bucharest