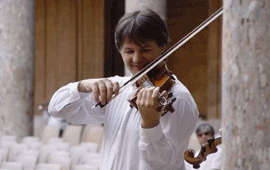 Interview with Violinist Liviu Prunaru
Monday, 17 March 2014 , ora 9.43

The Romanian Cultural Institute in Brussels brings back classical music in Belgium and invites you Monday, 17
th
March, 2014, to the recital offered by two extraordinary Romanian artists,
Liviu Prunaru
and
Dana Protopopescu
. The programme includes
César Franck
and
George Enescu
's musical pieces.

Here you are, Liviu Prunaru, performing tonight in a concert at the Romanian Cultural Institute, this time in Brussels, not in Romania. You will have by your side a good old friend, pianist Dana Protopopescu. What works are included in your programme?
We will play Franck's Sonata for Violin and Piano in A major and Enescu's Sonata No. 3 for Violin and Piano in A minor Op. 25,In Romanian Folk Character and, of course, some encores which - I hope - will be many.

It is an audience that has known you since your first collaborations. How was it decided that your concert would take place at the Romanian Cultural Institute, exactly in March? Is it maybe a gift for the Romanians who live in Belgium?
It is a lovely way of seeing things. But I am afraid that it was, however, the only available date. It is very difficult to find some other dates when me and Dana are available at the same time. Dana travels a lot and so do I. We have hardly seen each other lately but we performed together so many times in the past that it suffices to meet one hour ahead for us to play any sonata that we played in the past. Why Brussels? Because we had many recitals all over Belgium after that competition in 1993 - The Queen Elisabeth Music Competition - and we crisscrossed pretty much all Belgium; we performed many times in Brussels and in this very concert hall- it is not the first time we play in the Salle Gothique de la Grand Place, a very beautiful hall where we enjoy coming back. I have not played in Brussels for quite some time and I am very happy to return. I am looking forward to it!

What are your future career plans, after this stop-over in Brussels?
Immediately after this, I will have a recital in Napoli, Italy where I will also play with a Romanian pianist, Marius Ungureanu. Meanwhile, I will have two rehearsals in Amsterdam because we are arranging a tour in Europe- Paris, London and some other places- where we will parade Bruckner's three symphonies: Symphony No. 4 in E-flat major, Symphony No. 7 in E major and Symphony No. 9 in D minor. We will play with three soloists: pianist Krystian Zimerman, violinist Frank Peter Zimmermann and cellist Truls Mørk. These concerts will take place immediately after I return from Italy.

Who will be standing at the music rack in the Royal Concertgebouw?
That will be our chief conductor and the orchestra's music director- Mariss Jansons.

Liviu Prunaru, we thank you very much and we wish you every success in carrying out these projects! And we also thank you for humouring us with so many days in Romania, when we really enjoyed your appearances!
I am also glad every time I come here and I will return, as a matter of fact, in April for the recordings, in May for another concert in Craiova, in July for another concert and in August I will go to Sinaia with Marin Cazacu and his guests. Every time I get the opportunity to come to Romania I do it fondly.
Irina Hasnas
Translated by Petronela Morosanu and Elena Daniela Radu
MTTLC, The University of Bucharest