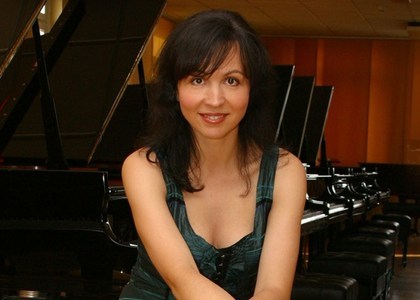 Luiza Borac on the Stage of the Romanian Athenaeum
Friday, 30 January 2015 , ora 14.14

The pianist Luiza Borac is currently in Romania to give a recital in the Grand Hall of the Romanian Athenaeum on Friday, 31st January, 2015. Under the title Chants Nostalgiques, the recital represents an homage paid to the tenor Ion Buzea. It was the artist of the evening herself who offered us some details regarding the programme of the recital:
The programme of the recital tomorrow evening is related to the launch of my latest album - Chants Nostalgiques. The title is inspired by the homonymous work composed by Constantin Silvestri, the great Romanian conductor and composer. Silvestri was a student of our brilliant Enescu and the first Romanian conductor to present the opera Oedipus in Romania, in 1958. I have created the programme of this album under the influence of nostalgia; first of all, nostalgia felt towards the great pianists-composers of the past - Franz Liszt and Sergey Rachmaninoff. Then, nostalgia for erstwhile Vienna, for the immortal Viennese waltz depicted by gifted composers such as Leopold Godowsky or Fritz Kreisler in his famous work entitled Love's Joys and Sorrows, a creation that the audiences love very much. A special moment on this album is represented by the homage paid to one of the greatest Romanian tenors - Ion Buzea, on the occasion of his turning 80, a beautiful age. This album, Chants Nostalgiques, was favourably received abroad, with positive reviews in the specialized media; that is why I really want to also present it at home, in Romania, to the Romanian audience. Performing in front of a Romanian audience is always something special for me, an incredible joy at being home, surrounded by musicians who have known me for years, by fans who have come to many concerts and dear friends. The programme is a special one because of the two reasons: the concept of nostalgia, so wonderfully depicted by these great pianists, and the tribute paid to one of our greatest artists.
I am inviting you tomorrow night to spend together a romantic evening under the Athenaeum's dome. And since it is such a special evening, I have prepared a few surprises for the audience, right at the beginning of the evening.
Lucian Haralambie
Translated by Mihaela Olinescu and Elena Daniela Radu
MTTLC, The University of Bucharest