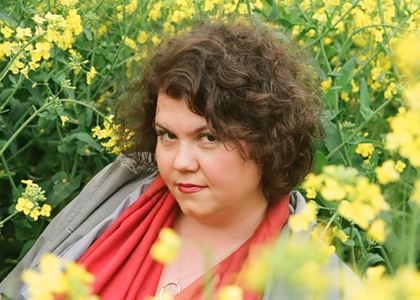 Mirabela Dina - the Soloist of the National Radio Orchestra
Friday, 3 April 2015 , ora 13.15

The National Radio Orchestra's concert taking place on Friday, 3
rd
April, 2015, is a good opportunity to see two of the ensemble's esteemed guests. Conductor Julien Salemkour will be behind the stand , and
Mirabela Dina
will perform as the soloist. Regarding the collaboration with the Radio's big symphonic ensemble, the pianist stated:
I was very pleasantly surprised. It is a wonderful orchestra, that plays as a whole, that pays a lot of attention to the conductor's demands; and Julien Salemkour is a true professional. His work is detailed, even painstakingly so, and knows exactly what he wants. I think it is a truly positive collaboration.

Your proposal is Johannes Brahms's second concerto. Why did you choose this work?
Because it's my favourite concerto! I've always loved it. I was a kid and I would listen to pianist Mihai Ungureanu, my teacher back then, playing it and I would go crazy about it. I would dream of this concerto day and night; I've often listened to it, including in his interpretation, and I felt that it fitted me too well. And even today, nothing has changed. From an emotional standpoint, it would be an entirely different experience if I played it in any other place, because it is here that I was born and here are my roots. Here are my lifetime friends whom I always find here and even if I may not have talked to them for a year and even if we don't keep in touch at all, yet when we meet, it's as if we had parted the previous day and this is clearly, an extraordinary feeling. And, not least, the fact that we're here, talking, communicating in our own language, is a very important aspect, that makes you feel good.

You're also holding masterclasses, both in Romania and in Koln. How are today's students ? How are today's young musicians today?
Very different. It also depends on what part of the world they're from, of course. Generally, perception can be quite different. Some from Germany may have another sort of attention or perception compared to someone coming from Russia - it's another aproache to the instrument and to music in general. I find it hard to describe this, I don't want to go into patterns, saying that yes, a Chinese sees it this way and a Romanian that way... no, it's not about that, but it's still about a background that everyone brings with them when they arrive and, of course, it's also about the level they're at. Early this month, I've had a masterclass at a special German gymnasium. What we know since time immemorial, how our art or music highschools were, before '89, there are only a couple of those in all of Germany. One of them is in Montabaur and that's where I was invited to teach a masterclass for a whole day, with extremely talented children, aged 14 to 18. I can tell that the level was very high; they are the future students, those who graduate from this sort of gymnasiums.

You've talked about backgrounds. What's the background of the Romanian musicians? How do they stand out?
Here, we lay out a solid ground - both in terms of style and dedication to daily studies. This trend is very popular in Germany - if my child doesn't like to study an instrument, then I won't force him - and there's something true about it; you mustn't force anyone, because it'll turn against them in the end, but in Romania, he who decides to take up an instrument and make music, I think knows what's in store and, most importantly, maintains the dedication needed for this. I'd enjoy greeting and recognising as many of my old friends as possible during the concert that'll take place at the Radio Hall at 19:00.
Lucian Haralambie
Translated by Bucur Adrian and Elena Daniela Radu
MTTLC, the University of Bucharest