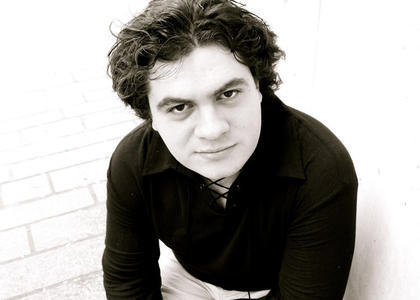 Interview with Conductor Cristian Măcelaru - His Debut at the Cincinnati Opera
Thursday, 18 June 2015 , ora 15.36

Between 18th and 20th June, 2015, conductor Cristian Măcelaru leads two performances with The Troubadour by Giuseppe Verdi at the Cincinnati Opera. This is in fact Măcelaru's debut at the Cincinnati Opera - reason for which we ask this orchestra leader aged thirty-four - who left Timișoara at seventeen, now an important name in the American musical milieu - details about the performance he is working on and about his future projects.
Is it the first time you approach opera? Is it something new to you?
No, this is not the first time I approach opera, but it is the first time I approach The Troubadour.
What other complete works have you conducted so far?
I have conducted Madame Butterfly, Don Giovanni, Gianni Schicchi, La Finta giradiniera, Rinaldo, Tosca… .
I have been already working for three weeks on The Troubadour with some extraordinary soloists, exceptional voices which you may already know. Azucena is Jamie Barton, who won the Cardiff Competition two years ago; soprano, Julianna Di Giacomo who sings Leonora's part; as Morris Robinson is the bass in Fernando's part, and is absolutely phenomenal. Manrico is the tenor Russell Thomas, another really, really gifted singer. All of them are at the peak of their careers and their vocal possibilities. It is quite impressive: on the first rehearing day I was taken aback by their artistic level. The rest of the summer I will be spending on travelling along with the Philadelphia Orchestra. We have seven concerts, and then I'll leave for another few orchestras and festivals until the end of August, when I will finally have a short break, and then start all over with the new season. I will actually begin the season in Europe, with the Royal Scottish National Orchestra. That will be the first one, and then we will continue further on. Next season I will make my debut with the New York Philharmonic Orchestra.
When will this happen more precisely?
In November I conduct five concerts with pianist Daniil Trifonov during a Rachmaninoff Festival which we organize together. I will also be back to conduct the Romanian Radio National Orchestra. The first time I'll be back will be in December. The programme is a surprise, but I promise you it will be interesting.
I am convinced it will be like this. How do you feel better at ease, as a conductor of symphonic repertoire or of opera performances?
It is very interesting because I feel at ease conducting both, as different as they are. This is very interesting because the symphonic pieces I conduct are very much influenced by the operas I conduct, and the other way round. And this is something I like very much, to have this possibility or opportunity of growing artistically. I believe there is not a better experience for a conductor than to conduct an opera, because for doing so, one needs such a long span of attention, and I'm not only referring to music, but also to the dramatic effect and the technical aspect of the voices one works with; also, stylistically speaking, Verdi is not performed in the same way as Mozart is … and many things which become very, very important in the long run. Each time I conduct an opera I feel my artistic boundaries are pushed even further, which is extraordinary.
Cristina Comandașu
Translated by Anca Romete and Elena Daniela Radu
MTTLC, the University of Bucharest