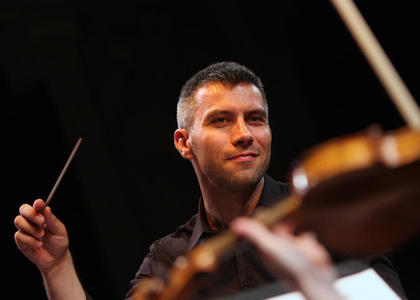 Interview with Conductor Tiberiu Soare
Thursday, 8 October 2015 , ora 9.40

M
ister Tiberiu Soare, a great event awaits you. You will perform on stage at the Australian Opera and Ballet Orchestra for the first time. This is also the first time when Angela Gheorghiu visits Australia. How are you preparing yourself for this evening?
I have started with a renewed concentration. It is true, Australia is far away, on the other side of the globe, but it is very well acquainted with the European and West European cultural events. It is very well informed about everything; Sydney Opera House belongs to the circuit of main theatres in the world. I can say it is an extraordinary experience to be here; I cannot wait for this evening's concert. I am positive it will be a magnificent one.

What musical programme did you prepare?
The programme is diverse, a gala concert, a programme based on baroque works, such as an aria by Handel. The concert will begin with George Frideric Handel's Suite Music for the Royal Fireworks and will continue with Puccini, Massenet, all kinds of classical and romantic works and even some 20th century works. This evening's programme will include some works by Enescu, such as Romanian Rhapsody No. 1, which is one of the orchestral works, as well as some arrangements made by Andrei Tudor based on Mihai Brediceanu's lieder.

I know you will perform another concert, on 13th October, in Melbourne?
Yes. The concert in Melbourne is also important because there is a large Romanian community there, as I heard, therefore we feel hopeful about the event. We will see what will come out of it, but I am certain that it will be a very interesting concert, as well. Anyway, Australia's musical life is among the most highly developed ones, or at least it seems to be so here, in Sydney.

What do you think of the Australian Orchestra? How would you describe it?
It is one of the greatest orchestras, and not only out of opera orchestras; its symphonic concerts are also extraordinary. Moreover, they hold symphonic concerts regularly. If one takes into consideration its acquired reputation and its work standards, one can say it is one of the most important orchestras in the worldwide opera circuit.
Ioana Marghita
Translated by Ana Vartolomei and Ioana Săbău
MTTLC, the University of Bucharest