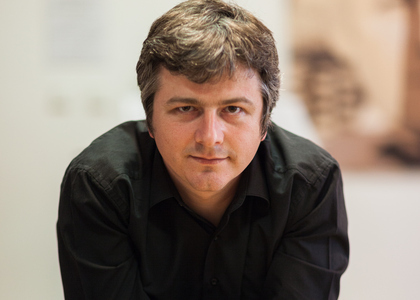 'Guitar Evenings' International Festival, Anniversary Edition
Tuesday, 27 October 2015 , ora 13.56

From 28th October to 30th November, the Kitharalogos Cultural Association invites us to eight musical journeys in the world of the guitar to celebrate the anniversary edition of the 'Guitar Evenings' International Festival, which brings together great musicians from abroad and from the country, too. Guitarist Costin Soare tells us about this year's festival:
The headliners of this anniversary edition of the 'Guitar Evenings' International Festival are the extraordinary concerts of two great musicians, I would say, two guitarists from abroad, the Italian Carlo Marchione and the French Gabriel Bianco. They are the main guests, but Romanian musicians will also perform very interesting concerts. On Wednesday, 28th October, at the opening concert, I will perform with flautist Ion Bogdan Ștefănescu, a well-known musician who does not need any recommendation. It is a programme in which, on the one hand, we celebrate 330 years since the birth of three musical geniuses, Bach, Händel and Scarlatti; therefore, three sonatas of these composers will be played. On the other hand, traditional music, dances and works from Brazil, Romania and Macedonia are also included. I dare say it is a very varied and engaging programme for the audience.
You have mentioned the three composers, Johann Sebastian Bach, Georg Friedrich Händel and Domenico Scarlatti, who also give the main theme of this festival. Why did you pick the works of these composers for the Fifth Edition of the Festival?
As I previously mentioned, because it is the 330th anniversary since the birth of these composers, I chose their music to be the leitmotif of this festival. In each concert, works by one or two of them will be played. The important thing is that we celebrate them and that people will listen to their works. From the stylistic point of view, the guitar will cover a varied area and the audience will be able to listen to works from the Renaissance period to the contemporary ones. At the concert on 25th November at 'George Enescu' National Museum, two works will have their premiere - one by Cătălin Ștefănescu Pătrașcu, and the other by Gabriel Mălăncioiu. We invite you to enjoy them with us ! I think it will be a guitar celebration. There will be eight lovely concerts. The entrance is free at all the concerts and we hope that the Bucharest audience will enjoy good music in great numbers. As Berlioz said: 'the guitar is a miniature orchestra in itself'.
Interview by: Lucian Haralambie
Translated by Ana Vartolomei and Ioana Săbău
MTTLC, the University of Bucharest