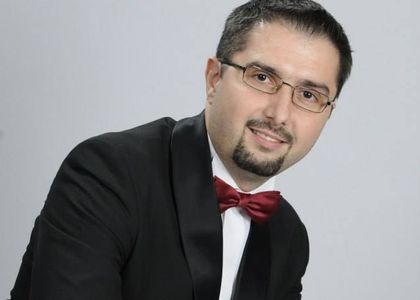 Ciprian Țuțu - the Conductor of the Academic Radio Choir
Wednesday, 27 January 2016 , ora 8.42

During the selection held on Tuesday, the 26th of January 2016, Ciprian Țuțu, currently the choirmaster of the
Brașov Opera, has been selected for the position of conductor of the Academic Radio Choir. Conductor
Ciprian Țuțu
gave us his thoughts on being appointed for this position.

First of all, congratulations! You have been appointed as conductor of the Academic Radio Choir. What was it like during the selection process and how did you receive this position?
Thank you! Firstly, for me this is completely life changing, not only professionaly, but on a personal level, as well. I confess I only found out about the competition just before the deadline for submitting our files. Actually, I sent my application file by email on the final day, in the last five minutes. I was selected and I came to Bucharest on Tuesday.
You asked me what it was like... The competition started at 14.00. I waited for about three and a half hours to finally come before the Academic Radio Choir and that is when it all began. It was a wonderful feeling... to have so many people watching, to perform works I love especially, to perform before a committee comprised of so many distinguished names in the world of choral music - maestro Goia, maestro Enăchescu, maestro Voicu Popescu - and director Răzvan Suma, of course. Overall it was a unique experience and I received this wonderful news with tremendous joy.

You have been the conductor of the "Gheorghe Dima" Choir of Brașov, a member of the Anatoly vocal quintet, and as of 2012 the choirmaster of the Brașov Opera. What are your plans at the beginning of this new chapter - as conductor of the Academic Radio Choir - in view of the history and particularities of this ensemble?
I am all the more honored as I will have the opportunity to work with a prestigious choir, with a lenghty tradition, a real treasure, not only for Romania. It is true that my career as a conductor has had certain directions or particular nuances - I speak of course of the opera choirs and other vocal - symphonic projects I have developed and conducted. Together with the Radio Choir I want to experiment with an a capella repertoire as diverse as possible. Contemporary music is also an area of interest for me and this will hopefully be reflected in future repertoires.

One of the people who have given you guidance in your career as a conductor is maestro Ludovic Bacs - a name closely tied to the Radio Chamber Orchestra. You have also prepared instrumental ensembles. Will the "Mihail Jora" Studio audience have the pleasure of seeing you conduct vocal-symphonic concerts?
I really cannot say for now. It is too early to say. I find it hard to forsee it. Of course I would like to do so, but for now I look forward to my debut conducting the Radio Choir and we will see what projects the future will bring.


Lucian Haralambie
Translated by Elena Gherca
MTTLC, The University of Bucharest