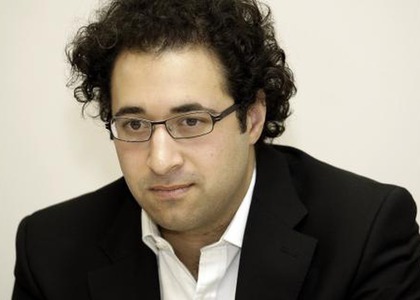 Leo Hussain, Guest of the Week on Perpetuum Mobile from May 30, 2018, interviewed by Gabriel Marica
Friday, 8 June 2018 , ora 8.40

Leo Hussain conducts the National Radio Orchestra in the concert on June 1, 2018, starting from 19.00

I have, of course, read about Leo Hussain and found out you prefer Mozart, as well as works from the second Viennese School and the music of the 20th century. Is it true?
It's a difficult question because people ask me what I prefer all the time, what my specialty is, but, most often than not, it's the music that chooses you. I lived in Salzburg for a long time. It's obvious that's what brought me closer to Mozart's music. As a student I conducted a lot of contemporary music. But I don't want to think of myself as having a certain specialization. There's music I like and music I like less.

You have worked with great conductors such as Simon Rattle, Valeri Gergiev or Daniel Barenboim. What can you tell us about these great musicians? How did it feel working with them?
I'm very lucky because, as you said, I have worked with many conductors. I don't think I had a single master, but rather and entire plethora, and for this reason I was very lucky. In the case of conductors, I think it's more about the spiritual development, and I think that's the most important thing.

You were invited to the Enescu Festival in Bucharest and conducted Schonberg and Berg. How was that experience for you?
I think you can't talk about a festival and all that the musical life of a city means in the same way. Because a festival, through its nature, is a celebration - I don't necessarily want to call it "special", but that's how it differentiates itself from the musical life of the city in general. I don't think I can talk about the musical life in Bucharest through the lens of the Festival only. What I think is a general feature of the musical life in Bucharest is the warmth and appreciation from the audience. Music plays a special part in the heart of the Romanian audience, music means something special for the Romanian audience.

In 2016 you had a great success at the Covent Garden with Oedipus by Enescu. What do you think about Enescu's music?
You can't talk about just one Enescu, but about more Enescus. First of all, he was a great composer and a very good interpreter. A composer, a pianist, a conductor, a professor. Enescu, in his compositions, show a great variety of styles. I'd rather say it took him a while to find his own style. In Oedipus we find everything that Enescu meant, concentrated in one work. If we are to talk about the symphony we will perform on Friday, the fourth one he composed while in school, it's clearly a piece written by a genius, a 17-year-old genius. A person who had listened to lots and lots of music, who took his inspiration from many places. The work we will perform on Friday is a post-Brahms symphony, via Dvorak, but it also reminds us a lot about Wagner. I have to say, it's quite an interesting mix.

What can you tell us about Friday? You will be performing Enescu, but also Faure, Ravel and Massenet during the same program.
Enescu, as I was saying, was a student when he wrote this symphony, he was studying in Paris, and I wanted to put the symphony in the context of that period. Like we heard earlier, this suite from Pelléas et Mélisande contains a lot of mini-portraits, he wrote as an incidental music for a piece, it has action, the colors of a drama, but contained in a suite.
Ioana Goicea will perform works by Ravel and Massenet. She is a young and very talented violinist. The piece by Massenet is very well known and I think everybody has the right to include it in their programs. In the case of Ravel, we see a French composer going towards the music of the East. It's an interesting contrast between Ravel and Enescu: Ravel, who tends to go towards the East, and Enescu, who tends to come closer to the West. I like the symmetry of the program very much.

Let's talk about the orchestra. How do you feel conducting the National Radio Orchestra?
It's always a pleasure to play Enescu with a Romanian orchestra - that's for sure! But the thing I always found interesting is that they performed this symphony by Enescu for the first time, they hadn't known it before. So, we discovered it together. But I liked working with the orchestra very much because they have a special energy and a certain fantasy. If we, as musicians, go on stage and don't tell a story, then we might as well stop doing it altogether, there's no sense to it. People often ask me what's the difference between conducting an opera and conducting a symphonic concert. For me, there's absolutely no difference; a symphonic concert is an adaptation for the stage, just as opera is. To make the orchestra want to obtain these colors, to tell the story - that's my pleasure.

After the concert on Friday evening, what comes next in your agenda?
After the concert on Friday with the National Radio Orchestra I am going to Switzerland to set the stage for Puccini's Edgar, another work that isn't known all that much. And then, in the summer, I will have concerts in Australia and a Tosca in San Francisco. That's a lot of travelling by plane!

Leo Hussain, thank you for this interview and best of luck for Friday evening! I hope you will come back to Romania with the same pleasure!

Translated by George Arion, MTTLC, An I;
proofreading: Mihaela Ghițescu, MTTLC, An II