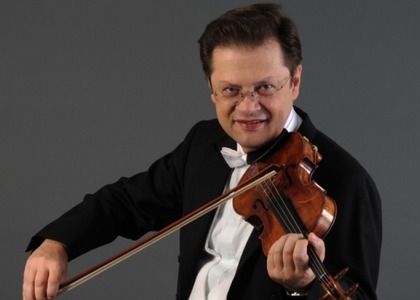 Violinist Liviu Câșleanu talks about his experience with the European Union Orchestra
Tuesday, 29 January 2019 , ora 9.13

Thursday, January 10th 2019, at the Romanian Athenaeum, the opening ceremony of Romania's presidency of the European Union Council took place. During this event, there was also a concert performed by the European Union Orchestra, an ensemble formed by musicians from all the 28 member states especially for this occasion. We interviewed the concertmaster of this ensemble, violinist Liviu Câșleanu.

What are your thoughts on the formation of a European Union Orchestra?
I think it's an extraordinary idea, to be able to bring together musicians from 28 countries. There were musicians from at least 20-30 orchestras, 90 musicians who perform all over Europe, from the Athens Philharmonic to the Royal Danish Orchestra, the Asturias Philharmonic from Northern Ireland, as well as our orchestra, the Beethoven Orchestra from Bonn, Berlin, Germany, the French Radio Philharmonic Orchestra... there were musicians from all over Europe! In my opinion that's incredible!

Do you think this orchestra has a future?
I hope so. We have a lot of ideas, musically speaking. My colleagues from these orchestras were extraordinarily positive and showed willingness to participate in this event again. The question is whether the EU will continue support us in the future, because this is a large-scale operation, we need the support of the superior forums to be able to do this. We're talking about 90 people, there's a lot of logistics. Mihai Constantinescu and I agreed that it would be a good idea that the every time we go somewhere - for example, when we go to Finland and Croatia in six months, we make a grand gesture, such as incorporating musical pieces native to the countries we're visiting in our performances. We can combine those with Ode to Joy, which will be, of course, the hymn of the European community. There might be a future for this idea. I hope so! We're only responsible for the musical and organizational parts.

What did it mean to you to be the concertmaster for such an important event for Romania?
I was extremely honoured and happy when I heard I was going to fill this position, bringing my own experience as concertmaster in four German orchestras. From a technical point of view, there were no surprises, but it was indeed an amazing, extremely interesting experience. I was delighted to get to work with musicians from so many different orchestras at the same time. It's a rare opportunity and I was extremely glad and honoured. Everybody participated in this. There were concertmasters from these orchestras and first violinists from Paris, Concertgebouw, from the Athens Philharmonic or from Slovakia... we all got along extraordinarily well, we were like family; we had no problem with competitiveness. Most importantly, we had maestro Ion Marin on our side; he is truly a special person. We should be glad that Romania can pride itself in a conductor of his calibre, among many others. He was able to bring together all of these European forces to deliver a splendid concert.
Interview by Ana Diaconu
Translated by Alina-Nicoleta Duminică,
MTTLC 1, Universitatea din București