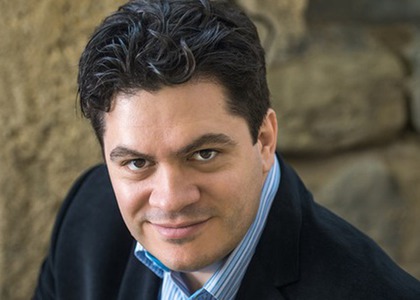 Interview with conductor Cristian Măcelaru
Thursday, 31 October 2019 , ora 16.09

On the 3rd of November Cristian Măcelaru will conduct the first concert of the Romanian Chamber Orchestra in Bucharest, project initiated by Cristian Ladislau Andriș and Alexandru Tomescu.

We would like you to talk a bit about this project which you are part of.
I was invited by Cristi Andriș, and he offered me this opportunity to work together with other musicians both from abroad and from Romania. I liked the idea right away and...that's how it happened. I'm joining this group joyfully.

You're about to go back home, to Timișoara and Arad, with this project. Does this evoke a special feeling or it just happened that you returned in this Romanian cultural space?
Of course it's nice that I can return to Timișoara. I very rarely conducted in Timișoara and I always wanted to come back and work there. Of course, my family still lives in Timișoara, my parents are there and I really like the fact that I can return there. It's a special feeling for me to see them again and be able to do something in the places where I grew up.

Tell us something about this set list in which you put together modern, Romantic and contemporary music. Are you trying to show different interpretation styles through it?
Yes, it's always important for me to find a connection or a link between the works performed in a concert. The first piece I thought of, which I really wanted to perform, was Bartok, because he is a composer of great importance to me and his Divertimento is a very beautiful piece, inspired by Transylvanian folklore. It always evoked nostalgia for me, because it's the music I used to listen to as a child and that's why I wanted to bring it here. It's not performed very often, or at least I never saw it performed in Romania; it was a piece I learned after I left home. And I really wanted to bring it to the Romanian audience so they could hear it more. To understand how beautiful this piece is. Then one of Mr. Andriș's wishes was to get young Romanian composers involved. I looked over the pieces I received and I chose one that also has a folklore style, so it's close to Bartok's music. Then, during the second part of the concert, we will perform Tchaikovsky's Serenade, which is well known for sure, but it's a fundamental piece for a string quartet.

What does the school of a chamber orchestra mean to you? Is it different from that of a symphonic orchestra or is it just, in a way, the smaller version of a larger symphonic orchestra?
On the contrary, for me a chamber orchestra is not a smaller symphonic orchestra but a larger quartet. Which means that, from my point of view, my role isn't exactly that of a conductor, but of an artistic collaborator. Each time I had the opportunity to conduct a chamber orchestra I tried to help the orchestra. In a way, the climax for me would be when I am not required to conduct anymore, but let the orchestra on its own,...to help them only in forming the virtual sound of their group, to help them, of course, solve technical difficulties, but then to encourage them to conduct together with me the interpretation of each piece. It's different from the way I work with a symphonic orchestra. Of course, this perspective would be nice in that case too, but it's much more difficult as there are many more people on the stage. But this is my wish; in a way, for me to be part of a larger chamber orchestra, than for them to be part of a smaller symphonic orchestra.

Do you ever plan on using your own violin while performing with a chamber orchestra?
I don't know. Honestly, I don't want to do it because I don't have enough time to get ready and I don't think it would be beneficial for anyone to hear me play the violin after not having touched it in 15 years! I don't think anyone would want to hear the sounds that would come from my violin!
The tickets for the 3rd of November concert in Bucharest are available for purchase here.
Interview by Anca Ioana Andriescu
Translated by Alina-Nicoleta Duminică, Universitatea din București,
Facultatea de Limbi și Literaturi străine, MTTLC, anul 2