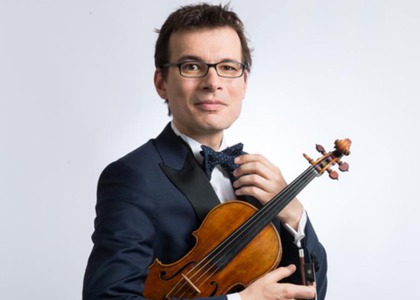 An Interview with Violinist Alexandru Tomescu
Monday, 20 January 2020 , ora 11.01

The violinist will be playing the Concerto for Violin and orchestra in D major by Ludwig van Beethoven at the Romanian Athenaeum on the 16th and 17th of January 2020.
The "George Enescu" Philharmonic Concerts, taking place on the 16th and 17th of January 2020, will mark the opening of the Ludwig van Beethoven Year, the 250th anniversary of his birth. The program is composed of the German composer's pieces and will consist of Overture to The Creatures of Prometheus Op 43, TheViolin Concerto in D major, Op. 61and The Ruins of Athens, Op 113. Marius Boloș, Ana Stănescu and Mihai Raicea will be some of the soloists and, as for the Violin Concerto, we will have as Alexandru Tomescu, whose interview will be displayed as follows.

The year 2020 marks a cultural moment of the utmost importance: the 250th anniversary of Ludwig van Beethoven's birth. Because of that, the "George Enescu" Philharmonic Concerts, taking place on the 16th and 17th of January 2020, will have a whole program dedicated to Beethoven, and one of the pieces will be the Violin Concerto. Where does this piece stand in your repertoire?
I couldn't ignore this Concerto by Beethoven, especially this year when we celebrate such an important milestone. I'm glad to stand again on the Athenaeum's stage as a soloist of the Philharmonic. Beethoven's Concerto is definitely one of the pieces that define you as a violinist. It is one of the three or four Concertos that you must try during your lifetime and that teach you a great deal. I don't mean from a technical point of view, but more from a musical and a spiritual one. It is a Concerto with which you evolve throughout your lifetime, because, I believe you never discover it in its entirety, and you will always and I mean always find yourself coming back to it, digging around, exploring and experimenting with it.

Since you have collaborated with conductor Jin Wang before, what made you come back and stand with him on stage this time?
I've played under the baton of Jin Wang in numerous concerts. I fondly remember when we played together, along with the National Radio Orchestra, both Prokofiev Concertos on the same night. So, I've found him to be a very meticulous partner, very well-prepared, who knows when to be there when he is needed and I am sure we'll have a fruitful collaboration this time around.

In the last years, the Romanian public have seen you play on the Stradivarius Tour. Are you planning to attend the 2020 edition?
Of course. I've been planning the 2020 edition since last year and we have already prepared some very, very interesting surprises for the concert-goers. I've been also working on future editions because I'm a bank of ideas. There are so many wonderful and extraordinary things that we can show to the public. I hope to have the time and energy to wrap up all these projects.

You've published an extensive number of records in your career, records in which you've shown soloist work, pieces for chamber music or duo concertant opuses. Should we expect a new album in the near future?
Yes, I'm planning the launch of a new recording this year. I don't want to spoil the details. All I can say is that the violin will pe accompanied by a rather unusual instrument.
Interview by Vlad Ghinea
Translated by Maria Costea, Universitatea București,
Facultatea de Limbi și Literaturi Străine, MTTLC, anul I