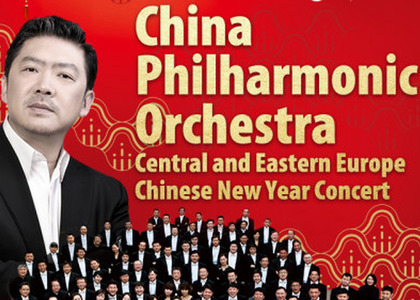 The Chinese Philharmonic Orchestra in concert at the Romanian Athenaeum
Thursday, 23 January 2020 , ora 11.16

The event is part of a tour held by the ensemble on the 20th anniversary of their activity and will be held with the participation of the artistic director and the main conductor Long Yu. We will find out more from Andrei Dimitriu, the general director of the "George Enescu" Philharmonic in Bucharest
On Monday, the 20th of January 2020, a Chinese Philharmonic Orchestra concert will be held at the Romanian Athenaeum from 7 p.m. The event is part of a tour held by the ensemble on the 20th anniversary of their activity and will be held with the participation of the artistic director and the main conductor Long Yu. We will find out more from Andrei Dimitriu, the general director of the "George Enescu" Philharmonic in Bucharest.
The Philharmonic has been collaborating with the Chinese music institutions for several years and there were several possibilities this time, including the invitation of the Philharmonic to a festival in Shanghai ...so, an exchange of musical groups. The Chinese Philharmonic is coming here for the first time and the concert is part of a tour around Europe.It is a novelty for a Chinese orchestra to perform music by Chinese composers, maybe this happened in those festivals the 1950s.Anyway, it's something new. The conductor is a well-known name in China, Yu Long.What's interesting about Chinese music is the fact that it uses a specific instrument, the bamboo flute, and one of the concerts is dedicated to this instrument, having a solo and orchestral part. Bela Bartok - Romanian Folk Dances and Beethoven - Concerto No.1 for piano and orchestra, and the soloist, also a Chinese, Wang Yalun, is well-known in the international music world.

The special guest of this concert will be Gheorghe Zamfir...
Yes, Gheorghe Zamfir is the guest of honor of the orchestra and has his own composition - Danse de la foret for pan-pipe and orchestra. I think it will be an interesting concert and it will certainly allow the Chinese symphonic music to reach our own country.

Will there be such projects at the Romanian Athenaeum during 2020?
At the beginning of March, we also have a collaboration with the Chinese Cultural Institute in Bucharest, also related to the Chinese New Year. Besides, it's a tradition... The Embassy has been organizing this specific event at the Philharmonic for at least 6-7 years, bringing a note of exoticism that the audience really likes.

And, briefly, please tell me about the projects of the Philharmonic at the beginning of the year.
Obviously, this year is marked by Beethoven. We will have several concerts throughout the year. Soloists and renowned conductors. There is a program available on our site. I think it is something which will bring attention to our institution in this year of homage.
Interview by Lucian Haralambie
Translated by Alina-Nicoleta Duminică, Universitatea București,
Facultatea de Limbi și Literaturi Străine, MTTLC, anul II