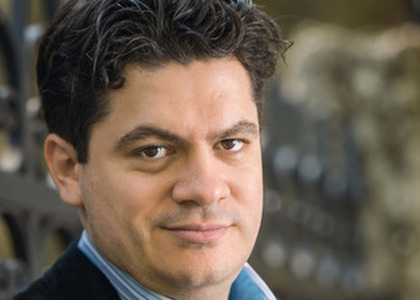 Interview with conductor Cristian Măcelaru
Thursday, 30 January 2020 , ora 15.39

A first interview, after the announcement of the Grammy awards on the 26th of January 2020.

Mr. Cristian Măcelaru, the 62nd edition of the Grammy Awards was held on the 26th of January in Los Angeles. The album containing work by Wynton Marsalis, a collaboration with violinist Nicola Benedetti and the Philadelphia Orchestra, won the award for best solo performance. Congratulations, Mr. Cristian Măcelaru. How did you receive the news?
Thank you. A lot of things happen when you don't expect them or when you don't have time to participate in them and that's exactly how it was this time. I live in Leipzig and work with the Gewanhaus Orchestra. They called me last night. It was past midnight when I received the news. In a hotel room, all alone, I received wonderful news.

You should know there were probably many Romanians on your side, and they enjoyed the news. What does such a prize mean to you?
The prize is very important to me, because it is awarded after the votes received from the members of the Recording Academy and it recognizes the efforts of Wynton Marsalis, who composed this music, and also of Nicole Benedetti, who performed the solo and last but not least the Philadelphia Symphony Orchestra, with which I have a very close relationship, we have performed together in hundreds of concerts and continued to collaborate. They performed the score a bit differently compared to what we think of when we think of classical music, especially contemporary classical music from the 21st century. Wynton has his unique way of expressing himself and we discovered a lot being involved in this project, we took many positive things and we are very pleased to have had this opportunity.

Mr. Măcelaru, this is the achievement of a team of fantastic musicians and I would like to ask you how was the collaboration with violinist Nicola Benedetti during the concerts back in 2017, when some of the recordings were made for the record and later on in the studios?
I worked with Nicola for the first time back in 2013 or 2012, I think, when she came and performed the Tchaikovsky concerto with the Philadelphia Symphony Orchestra and, as usual, we became friends immediately and we looked for another opportunity to collaborate artistically again. It was her idea to order a violin concert written by Wynton Marsalis, she asked me if I was interested in collaborating with her and with Wynton Marsalis, not only to perform the piece, but also to make sure that the piece would be finalized and that it would make sense from a musical point of view, so also to play a supporting role, so to speak, for Wynton, as a composer. Of course, I immediately accepted, because I admired and still admire Wynton Marsalis very much, as a musician, as a composer, as a man, as a thinker, and so I started collaborating in 2015, and then before I got to Philadelphia in 2017, I had already performed the song with several orchestras both in Europe and the U.S.

You're referring to the violin concerto, of course.
Yes, I had first access to it in 2015, and then, until we got to Philadelphia, it passed to several orchestras that I conducted and we performed together, and then, when we got to Philadelphia, I've always had had this wish and I said from the beginning that my idea was to make this record with the Philadelphia orchestra. It's the orchestra I know best in the U.S., it's my favorite orchestra in the U.S., and I definitely wanted this record to be successful, which depends a lot on the people who are involved in creating this record and sure, it was not easy, it is very difficult, especially in the U.S., as the costs are huge. We had to find sponsors. Many things had to align, but in the end they aligned and I am very glad that we managed to make this record.

How do you get used to building the relationship with the soloist, in this case, with Nicola Benedetti? Do you establish a common musical plan or do you share their intentions and transmit them to the orchestra? How do you plan these things?
For me, everything is a collaboration that depends a lot on the person or the people who are involved in the collaboration. Sometimes, I have a special idea, which I can communicate, eventually, when I feel I can be open with the soloist I work with. Most of the time, I listen a lot and allow the soloist to say their point of view, which I can then support in concert or on the record or in any other format in which we are collaborating. What a soloist has to do on stage, in front of the audience, in front of a microphone or in front of the band itself, is complicated, and the last thing I want to do is to create another obstacle by forcing them to interpret an idea of mine, which is personal. Therefore, I always start by listening to what the soloist wants, we discuss a lot what the intention of the composer is. In this case, Wynton was with us, so both of us listened to the way Nicola performed, then Nicola and I listened to Wynton's reactions, his ideas, and I see my role as giving support to those in need, so they are able to perform as well as possible.

As we all know, you have a long-standing relationship with the Philadelphia Symphony Orchestra, since 2011 you became assistant conductor there, then, of course, your position has evolved. I would ask you how your musical relationship with the American ensemble started, how it evolved and what it is like today?
The relationship is still very, very good. I was there in December and we had a series of concerts, during which we performed another symphony, also written by Wynton Marsalis, Blues Symphony, and which I hope we can manage to release on a record in the future. So the relationship is very, very good. They are not only my colleagues, but also my friends, many of them. I have also lived in Philadelphia for eight years. I can say that there is a mutual respect we have for each other, which is very healthy and very beautiful.

These days, your name can be seen, written in a tiny font, on the posters at the Gewandhaus in Leipzig, where you are scheduled to perform on the 30th-31st of January and the 2nd of February. This is not the first time you are in this important music center. But is the repertoire new?
This is not the first time I come to the Gewandhaus. I have been there before. The program is quite special. Firstly, we perform a piece which was only recently discovered, a piece written by Stravinsky, the score having been lost for the entire 20th century. It's called Chant Funebre and we'll perform it there, and then we perform the Weinberg cello concerto, which is a piece we often perform, with soloist Sol Gabetta, and then, during the second part of the concert, the Symphonic Dances by Rachmaninoff, a very well-known piece, which is performed very often, a piece which was written and performed very much by the Philadelphia Symphony Orchestra and which I conducted in Philadelphia many times. So, there's a combination of new or new pieces in this concert, so to speak, and a piece that I conducted very, very often.

Mr. Măcelaru, when will you conduct a concert in Romania?
I will come to the National Radio Orchestra on the 1st of May in Bucharest, I hope we'll meet then.

We thank you very much. Once again, congratulations and good luck during the Leipzig concerts.
Thank you.
Interview by Monica Isăcescu
Translated by Alina-Nicoleta Duminică, Universitatea București,
Facultatea de Limbi și Literaturi Străine, MTTLC, anul II