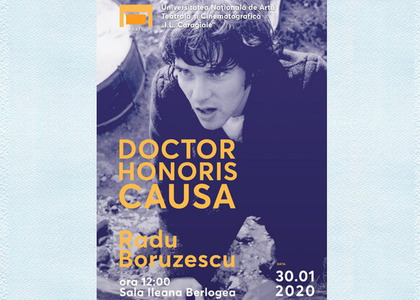 Radio interview with the production designer Radu Boruzescu,in the Radio Romania Musical Studio
Wednesday, 12 February 2020 , ora 11.16

In the 1970s, a whole variety of Romanian theatre creators left the country, one by one, in search of the freedom that any artist requires. After Andrei Șerban, Petrică Ionescu, Iulian Negulescu, the family of production designers Radu and Miruna Boruzescu managed to leave Romania, after their play, Gogol's the Inspector - General,a collaboration with Lucian Pintilie, was banned from the Bulandra Theatre and having the motivation to stageCarlo Gozzi's Turandot,in Paris. Settling in Francemeant the debut of an exceptional career for the two production designers, in theatre, but especially in the world's great opera houses. Works like Bizet'sCarmen, Verdi'sRigoletto and Don Carlo, Janacek's The Makropulos Case, Giorgio Battistelli'sRichard the IIIrd and many, many others draw up the impressive list of productions signed by the late Miruna Boruzescu and Radu Boruzescu for festivals and theatres such as Maggio Musicale Fiorentino, Sazlburg Festival, Reggio Theater in Turin, La Monnaie in Brussels, Garnier Opera in Paris, La Fenice Theater in Venice. Collaborations with names like that of director Robert Carsen or ballet dancer Rudolf Nureyev show very high professional standards, recognized in recent years by UNITER with the Lifetime Award, and last week by the National University of Theater and Film and the Romanian Filmmakers Union, who gaveproduction designer Radu Boruzescu the title of Doctor honoris Causa, respectively a special Lifetime Award.
In the Radio Romania Musical studio, Radu Boruzescu spoke to us about his relationship with music and opera:
Our relationship with music was essentialfrom the very beginning because you cannot live without music. So, we were lovers of music ... it had become a natural need. And eclectic music ... Anyway, I lived in an era whenone needed music.

Have you ever studied music? Did you take piano classes?
When we were very little, we had a governess from France....

It was part of the natural education!
Yes, the education of a certain class...and we didn't love it at all, we hated it and me and my brother, we used to hide under the piano when it was time to have piano classes. It was torture for a couple of children who only wanted to play.

Then you became music lovers. You went to concerts, to shows...
Yes. And not to mention the enormous collections of records.

If you were to teach a course in opera production design, how would you differentiate it from theatre production design?
I see no difference. There is something megalomaniac about opera in general, but if you perceive it like that, you're lost. Thus, you have to treat the subject as particular as possible, find a solution… you cannot copy. It's an age when everybody stagesCarmen or Don Carlo, you cannot copy. Each has to identify his own idea. I would not differentiate between the two.
I invite you to follow the full interview with the production designer Radu Boruzescu in March, during our program Music's Success Stories, on Sundays, starting from 16:00.
Monica Isăcescu
Translated by Irina Ștefan, Universitatea București,
Facultatea de Limbi și Literaturi Străine, MTTLC, anul II