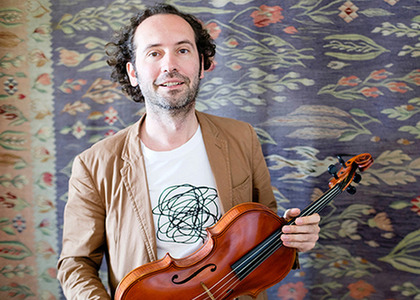 Interview with violist Răzvan Popovici
Monday, 24 February 2020 , ora 12.13

On March 8th, from 7 PM, a recital entitled Amoroso will be held at the Radio Hall, which will be performed by artists from the SoNoRo festival: violinist Sarah Christian, violist Răzvan Popovici and pianist Mara Dobrescu. The program includes, among others, creations by Beethoven, Mozart, Clara Schumann and Edward Elgar. About this event, which inaugurates a new series at the Radio Hall, the Musical Romania Radio Concerts, the violist Răzvan Popovici, the initiator and organizer of the SoNoRo concerts, spoke to us:

Mr. Răzvan Popovici, you have already become accustomed to high-profile events, signed SoNoRo, most of them having a certain theme. This time, you have prepared a March 8th recital entitled Amoroso. What is the message of this Radio Hall event?
I was overjoyed to be invited by Musical Romania Radio for this concert. The idea was to give the ladies in Bucharest, and not just the ladies otherwise, a beautiful March concert. I had the pleasure to co-operate in this concert with the famous pianist Mara Dobrescu from Paris and a fantastic violinist, Sarah Christian from Munich, so that, in a trio formula, we will interpret a very wide repertoire I would say, starting with the Spring Sonata by Beethoven or with well-known pieces by Edward Elgar, then Ravel, Lalo and, of course, two creations of some composers; more precisely Rebecca Clarke, an English composer less known in Romania, who was also a sensational violist, but a great composer in my opinion and, of course, Clara Schumann with the famous Three Romance for Violin and Piano.

Have you collaborated with the two musicians before?
Of course. We have been singing with Mara for many years; we studied together in Paris many years ago and since then we have maintained a both human and musical friendship. And Sarah Cristian, of course, I know from Germany; we sang together at many festivals. I think these musical friendships will also benefit our concert on March 8th, in the Radio Hall.

As far as I know, violinist Sarah Christian is of Romanian origin.
From what I understood, yes, precisely. And I reckon it is a joy for someone of such a level and caliber to return to Romania. And, as far as I know, she will sing in Bucharest for the first time.

After the Radio Hall concert, also in March, you will start a new SoNoRo Interferences edition. How and where will this workshop take place?
The first Interferences workshop of the year will take place in the splendid Ricci palace in Montepulciano in Italy. It is the twelfth year I think when we return to this splendid place with the SoNoRo scholars. Our idea has always been to create an environment for these extremely talented young people and we have seen during this long period of collaboration with the Palazzo Ricci European Academy how beneficial this idea to bring talented young people to Italy was, in the middle of that splendid architectures, fantastic cultures and, practically, to put them to study, to teach them, to allow them to make music as it used to be, in quiet places, where they are able to concentrate and create with calm and enthusiasm.

What other projects do you have for this period?
I am very glad that in two weeks I will be back on the stage of the Bucharest Philharmonic, at the Athenaeum. I will perform the Romance by Max Bruch and Andante and Rondo Hungarian by Carl Maria von Weber along with the "George Enescu" Philharmonic, so two creations rarely sung on the Romanian stage, but which are succeeding our expectations, extraordinary and belong to the very special violin repertoire. Of course, returning to the Athenaeum stage is always a pleasure, so I think that the focus will be on these two concerts after the March 8th one. We will also have the second edition of this new festival started last year, the young Musikland, SoNoRo, the country of music, said intentionally in German because it is a festival that focuses on this splendid area of Romania, "Tuscany of Eastern Europe" - as I always say; so Viscri, Meșendorf, Criț, Bunești, undoubtedly Brașov, Cincșor, Sighișoara - that extremely beautiful area, where the churches sound so good. They are the most sought-after places by a large tourist segment in the world.
Interview by Larisa Clempuș
Translated by Drangoi Ioana – Alexandra, Universitatea București,
Facultatea de Limbi și Literaturi Străine, MTTLC, anul I