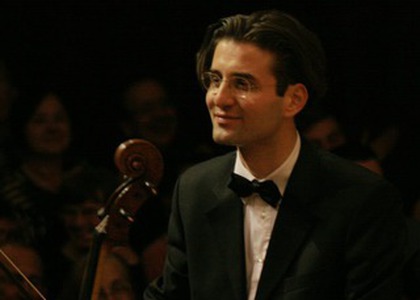 Interview with cellist Valentin Rădutiu (II)
Monday, 24 February 2020 , ora 12.18

About Enescu and Per Rundberg, the soloist of the 4th of March recital at Radio Hall, organized by Radio RomâniaMuzical and Rotary Club Pipera.

It is always good to remind the audience that you are the first cellist who has recorded the Complete Works for cello and piano by Enescu. And we remind this both as an acknowledgment and also as an opportunity to say that this chapter is permanently open and that as many complete works are needed. Even now, on the 4th of March, you don't forget about Enescu; Enescu in an extraordinary setting, because you propose us a transcription of the lied "Languir me fais", among the best known in the series "Seven Songs of Clement Marot". What is the story of this transcript?
When I did the complete works, I tried to find all the works, first and foremost, composed by Enescu for cello and piano and so I took care of the possibility of transcribing something. And for that recording, I decided it was going to be only original works, but I stole a little bit from the singers - talking about the cello in Rachmaninoff's Sonata. Here, indeed, it is an original work written to be sung. It is precious and has a very special atmosphere, an absolutely unique and immediately recognized perfume of Enescu, a melancholy, a nostalgia and ... so being the title of the concert series, "The heirs of Romania ...", I said of course that we cannot miss a song by a Romanian composer, the most famous composer, George Enescu.

It would be unacceptable, of course, not to mention your partner in the 4th of March recital, pianist Per Rundberg - a close collaborator and, I suspect, a friend of yours. What qualities does Per Rundberg have from your perspective, as well as from the audience that should not miss the Radio Hall concert on the 4th of March?
Per Rundberg is an international pianist, a great musician. He studied, first of all, with the famous Kammerling, this guru of the pianists, who guided so many great pianists. I met Per very young - he is a bit older than me - when I was a student in Salzburg, so we have known each other for almost 20 years. He is a very experienced musician. He sang a lot of repertoire, so he has a very broad musical horizon. He is a man with a great passion, a dedication to music. I do not say this as easy praise, but I do not know so many people who are really, almost exclusively, interested in music and not in those things that are attached to this profession, which are two-fold: success, fame, money... He has a certain purity in his relationship with music and his way of living, a special dedication that is not so often seen.
Interview by Ștefan Costache
Translated by Alina-Nicoleta Duminică, Universitatea București,
Facultatea de Limbi și Literaturi Străine, MTTLC, anul II